Picnic Salad Recipes… Some of our family's old favorite recipes.
 Put the salad together... then just pop into the picnic basket, or picnic cooler...

and head off  to the picnic.



We use these picnic salad recipes to go with our picnic food... and they travel well!                                    
You'll find they are easy to make, great summer salad recipes.
Fresh and crunchy green salads, so refreshing on a hot summer's day... or even a lovely cool day...
and other practical and really simple, tasty salads which will go well with lunch ideas.
Picnic salad recipes, ready for your picnic...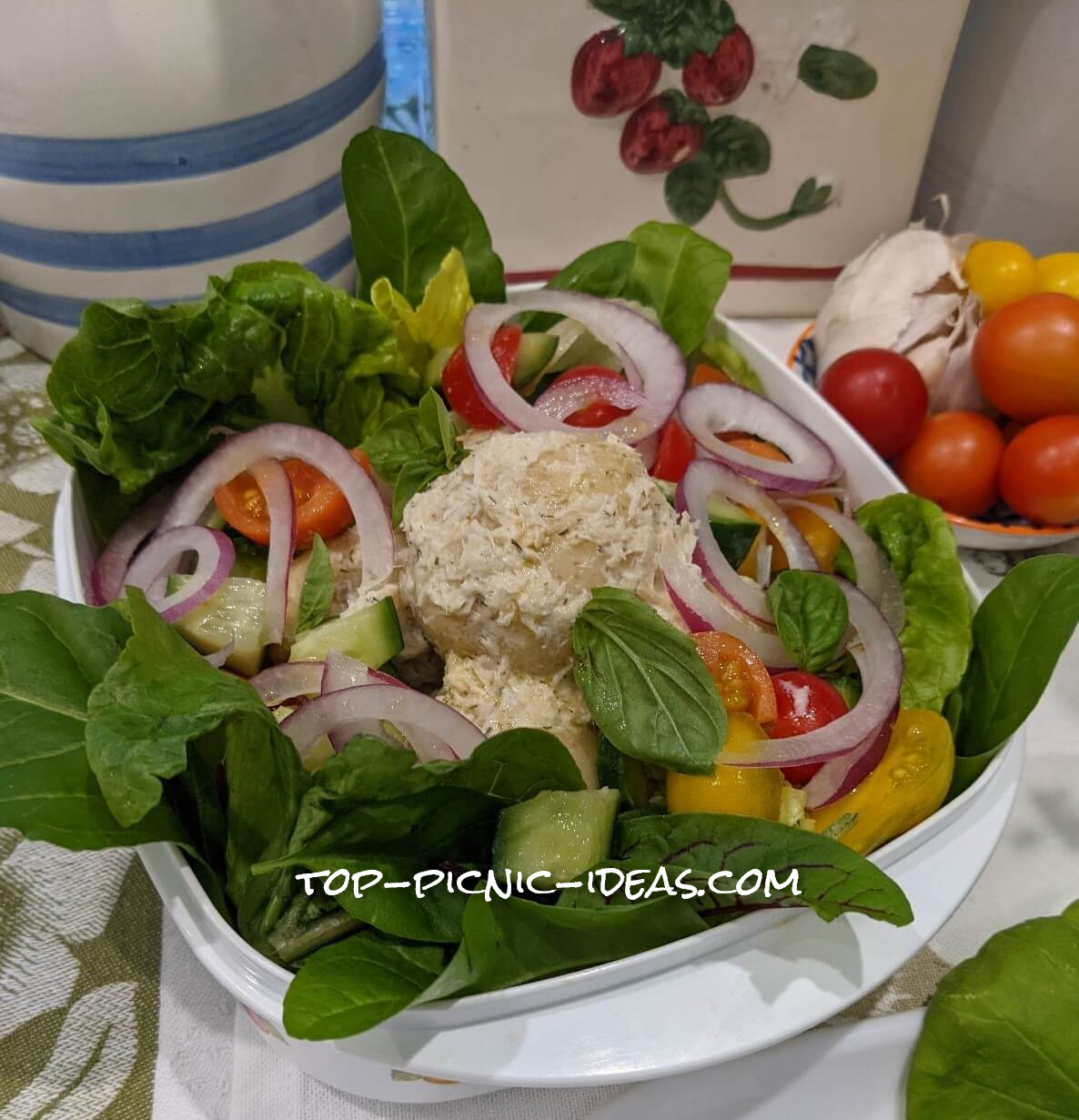 Pack a salad in a container ready to serve at your picnic... just fold leaves in when the lid goes on.
Combined salads... potato with horseradish cream, tomato and cucumber and mixed greens for this picnic salad recipe.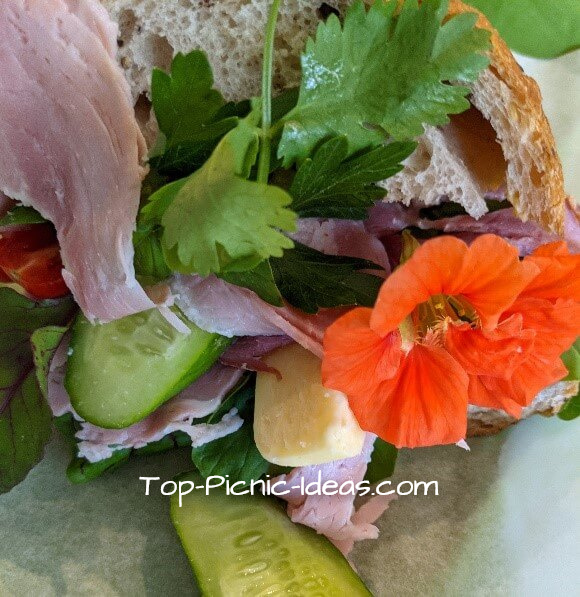 Just add to sandwiches, for example... or use these picnic salad recipes to compliment your picnic menu.

Green picnic salad recipe

Potato

Tomato and cucumber

Greek Style

Pasta Salad

Sometimes... a big yummy bowl of salad, filled with very delicious tasty food, is all you need for a picnic lunch!
---

TOP TIPS...

For green picnic salad recipes



Make sure all lettuce and greens are gently, well washed in cold water.

If you don't have a lettuce spinner to remove excess water, drain well and gently pat dry, then wrap salad greens in a paper towel.

Well drained greens can be stored in a plastic bag in the crisper in the fridge… this will make them beautifully crisp.

Keep salads cool, but not on a frozen cooler brick… being too cold, or frozen, will ruin greens.

Carry the dressing in a small container with tight lid.

Only toss, or drizzle, the dressing on the salad at the last minute.
When traveling with picnic food, keep the dressing separate from the greens until you are serving it with the picnic lunch.
---
Collect your extra salad ingredients...

with

a few edible flowers and herbs

from the garden, if you can,

for these picnic salad recipes.


---

Let's start with a beautiful crunchy green picnic salad recipe... and salad dressing.
Green Picnic Salad Recipe... for 6 people, but it is easy to adjust for larger or smaller groups.
Ingredients
Six hands full of lettuce… allow a good handful of mixed greens per person... chosen from these mixed leaves below, or buy a bag of mixed lettuce leaves.
An extra handful of…
Fill your bowl with mixed salad greens and add a few edible flowers for special interest for your crunchy green picnic salad recipes.


To Assemble this green salad from picnic salad recipes

Put this salad together in a light weight bowl if possible... often in a round bowl, or on a platter with low sides.

Take the crunchy cos lettuce leaves and place around the edge of the bowl with stems facing into the middle. 

Then fill the middle with remaining lettuce leaves and herbs.

Sprinkle a few nasturtiums and borage flowers over the top. You don't need many to look exciting!

Toss a couple of full length chives ( not chopped up) across the top to finish.

There are many options, but these favorite basics

go so well with

many

lunch ideas

.

It is easy to add variations… like radicchio, which although red, adds a tang.

Our green grocer has a lovely mixture of salad leaves, mesclun salad mix, the best crunchy crisp leaves from mixed lettuce centers for the green salad… favorites! Even edible flowers can be bought in little containers.

When you are about to serve, sprinkle salad dressing over the green picnic salad recipe..

The basic salad dressing (below) with crushed garlic added,is recommended, but really here is a chance to use your imagination
As mentioned, when traveling with picnic food, keep the dressing separate from the greens, until you are serving it with the picnic lunch.
       .....................................

Other variations… sprinkle on top of this picnic salad recipe
½ cup crunchy roasted walnuts

Roasted pine nuts… a good handful

avocado, or green beans.

Fresh young asparagus… no need to cook if small and very fresh, just break into short pieces... remove tough base if you need to.

Plus another suggestion… From your garden, (NOT poisoned with sprays) if you have access to edible flowers and herbs…
A few nasturtiums and hearts ease flowers, fresh lavender, marigold petals and small nasturtium leaves. Borage flowers are lovely, tasting fresh, like cucumber.

Other fresh herbs, such as fresh oregano leaves, or fresh lemon thyme… lemon thyme is lovely… but only use small amounts. Mint, torn into small bits, can add a fresh taste.

Find simple picnic salad recipes like this, with sticks of celery, whole mixed greens, peas and beans and cherry tomatoes...
just dip into pesto or hummus... or avocado dip... yum!

One of these picnic salad recipes even had a carrot for the Easter bunny!
Homemade Salad Dressing for a green salad.

No need to buy pre-made dressings full of preservatives and other unknown ingredients.
It's soo easy to make your own for your salad recipes!

It is useful to double, or triple, the basic dressing recipe, as it will last well… leave excess at home in fridge for future use.
Salad dressing is best kept in a cool dark place.
When traveling with picnic food, keep the dressing separate from the greens until you are serving it with the picnic lunch.
  Basic Salad Dressing for picnic salad recipes.
        Ingredients
   6 tablespoons olive oil

   2 tablespoons white wine vinegar

   1 Clove of crushed garlic

   Ground pepper and salt if you wish
  Then... Whisk ingredients together in a bowl, or put into a jar or container with tight lid... shake to amalgamate.
In this example I have added a teaspoon of grainy mustard and a dash of honey... and I made three times the amount. A small amount went to the picnic and the remaining dressing was left in the fridge to use later... it keeps well!

   Use one of these variations for the homemade salad dressing recipe.
   Try different vinegar and oil flavors... here are a few suggestions.
    Substitute with one of these...
    Vinegar or lemon for the "bite" in the dressing
   Or a different oil

Walnut oil

Safflower

Canola oil

  For tastier dressing add one or two, or all, of these to the basic picnic salad recipes
   Or herbs, add just one, or maybe a pinch to the dressing
Touch of fresh thyme leaves... lemon thyme is best

Chopped chives
   You have your dressing ready... so now pour a small amount of dressing on the green salad at the picnic and gently toss!

    Now you can see the many variations of dressing for picnic salad recipes
   Just play with them, use your imagination 

   I will show you more recipes and great combinations too.
Potato Salad...

. Very popular!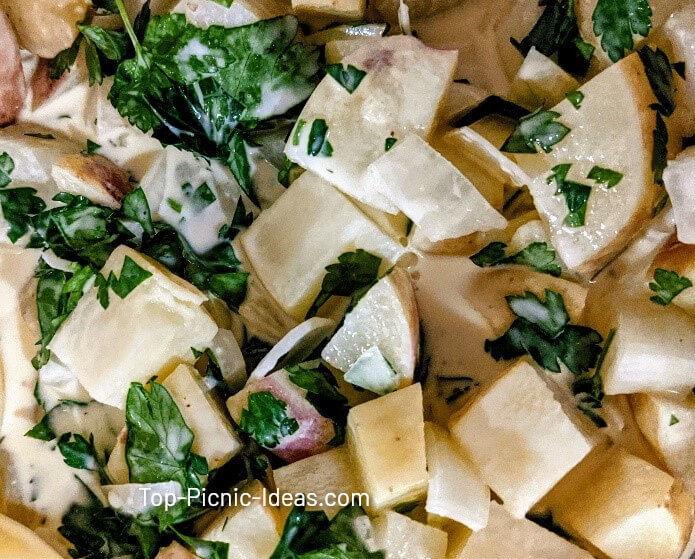 This old German potato salad recipe came from the Barossa Valley,
a famous wine producing area in South Australia.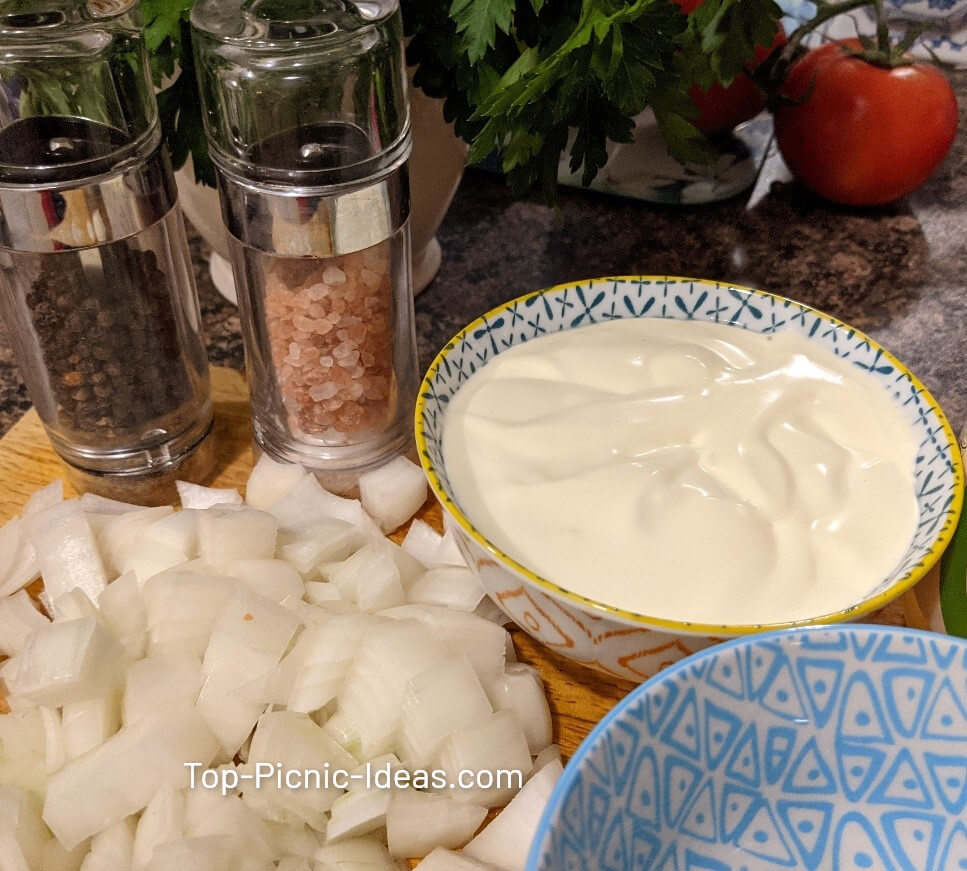 Ingredients
1kg (2lb) Potatoes… baby potatoes, or large potatoes chopped into bite sized cubes.
Then add...
White wine vinegar… 1/4 to 1/2 cup... or more to taste.
1/2 to 1 finely chopped salad onion.
1 cup thick cream... or yogurt... or olive oil

Pepper and salt… to taste.
Optional extras… they are really good with this recipe for picnic salad recipes.
2 or more tablespoons Horseradish… add to cream.

3-6 rashers crunchy crumbled cooked bacon.
2 chopped hard boiled eggs.
Chopped fresh dill.
Chopped parsley

Method
Scrub, then boil potatoes for a few minutes only... until just tender (don't overcook).

Skins can be left on, or if you prefer peel them first.
Strain water from potatoes.
Then while still hot… add vinegar and onion and cream.

Fold gently and leave to steep for the flavor to seep into the potatoes.
Optional extras...
Bacon, crumbled and chopped boiled eggs, can be sprinkled over the top of the salad.
This serves 6 and can be eaten warm or cold... delicious and popular both ways.
A really good recipe to make ahead of the picnic and stores well for days... make extra and leave some home for later.

A little decadence… try this potato salad on warm fresh bread

… YUM!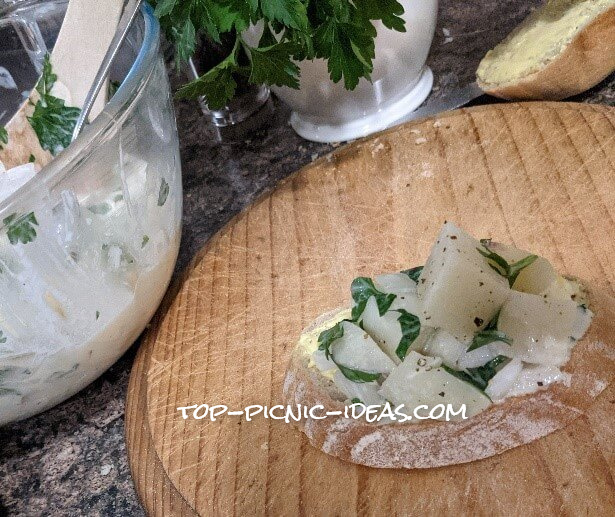 Another Version for a Tasty Potato Salad Recipe...
Follow the recipe above but use a cup of mayonnaise instead of cream and vinegar. Recipe below...

1/2 cup of chopped dill is tasty with this too.
Picnic salad recipes often have mayonnaise or Salad Cream in them,
so here is a recipe for you to start with.
---
   Mayonnaise… or Salad Cream.
  This homemade flavor is more delicate than commercial mayonnaise and will keep in a sealed container in the fridge for a week.
  This can be made using a blender, or by hand, or with an electric beater but I find a food processor is the easiest to use.
  This recipe will also be useful for salad recipes.
  You Need...
2 egg yolks... or 2 whole egg... this makes a thicker creamy sauce.
1/2 teaspoon creamy French mustard (Dijon )
Pinch salt
1 cup olive oil
1 tablespoon lemon juice, or white vinegar.
  To Put Together...
  Beat together egg yolks, mustard and salt until combined. A food processor works well.

  Add oil… very slowly… drop by drop, then in a thin stream… while all the time still beating mixture.
  When mixture is thickened, stir in lemon juice.
TOP TIPS...

  If you have a problem with the mayonnaise curdling…
 Beat another fresh egg yolk and gradually blend that into the sauce.

 Use this mayonnaise...
For many things, including, a really tasty potato salad, salad dressing, coleslaw, dips.
---
Tomato and Cucumber Salad
This is really simple and compliments quiche, egg and bacon pie and cold meats.
Ingredients
6-8 medium sized tomatoes... if you can find heritage varieties, or just different sizes and colors… truss, egg shaped and cherry tomatoes give an interesting look.
2 tablespoons semi dried tomatoes.
1 large or 3-4 small cucumbers… Lebanese and continental are best… they are crunchy and do not need seeds removed or peeling… but any cucumber you favor will do. If skin is tough it will need peeling though.
Red salad onion.
Few fresh oregano leaves and/or basil leaves coarsely chopped or torn.
4 table spoons olive oil.
2 tablespoons white wine vinegar.
Pepper and salt.
Method
Cut the tomatoes into thick slices.
Cut cucumbers into rounds.
Medium to Finely cut onion rings.
Cut semi dried tomatoes into smaller pieces and sprinkle through the layers.
Layer tomatoes alternately with onion rings and oregano and basil.
Whisk oil and vinegar together and drizzle over tomatoes and cucumbers and leaves.
Season to taste.
Variations for this picnic salad recipe...

Tomatoes and cucumbers can be chopped into cubes if you prefer. Chop onion finely if you do this.

For more flavors… try adding capers, or olives, or cubed feta cheese.

This is even better the next day and will last well in the fridge.
TOP TIP... If tomatoes are lacking flavor.
A little sugar sprinkled over tomatoes before dressing is drizzled on, will bring out flavor.
---
Greek Style Salad... one of our refreshing picnic salad recipes

 4 big ripe tomatoes.

1 long continental or Lebanese cucumber.

1 red capsicum.

200 gm Greek feta cheese.

Big handful Kalamata olives… or similar.

½ tablespoon fresh oregano.

!/2 cup basil leaves roughly torn at last minute.


1 red onion roughly chopped.

Radish chopped... optional.


3 tablespoons extra virgin olive oil.

1 tablespoon lemon juice or vinegar.

Ground Pepper and sea salt to taste.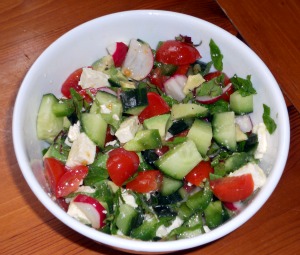 Method
There are other versions of Greek salad recipes but this is the one we use… and besides it is a lovely salad.
Whisk or shake olive oil and lemon juice… or vinegar, to combine. Chop all other ingredients and put them into the salad bowl… gently combine and pour dressing over. Try to sprinkle some of the olives and feta cheese over the top… looks very inviting! Possibly not strictly correct but I find a handful of tasty rocket is tasty in this too.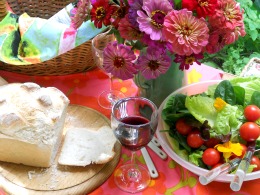 Picnic Lunch Ideas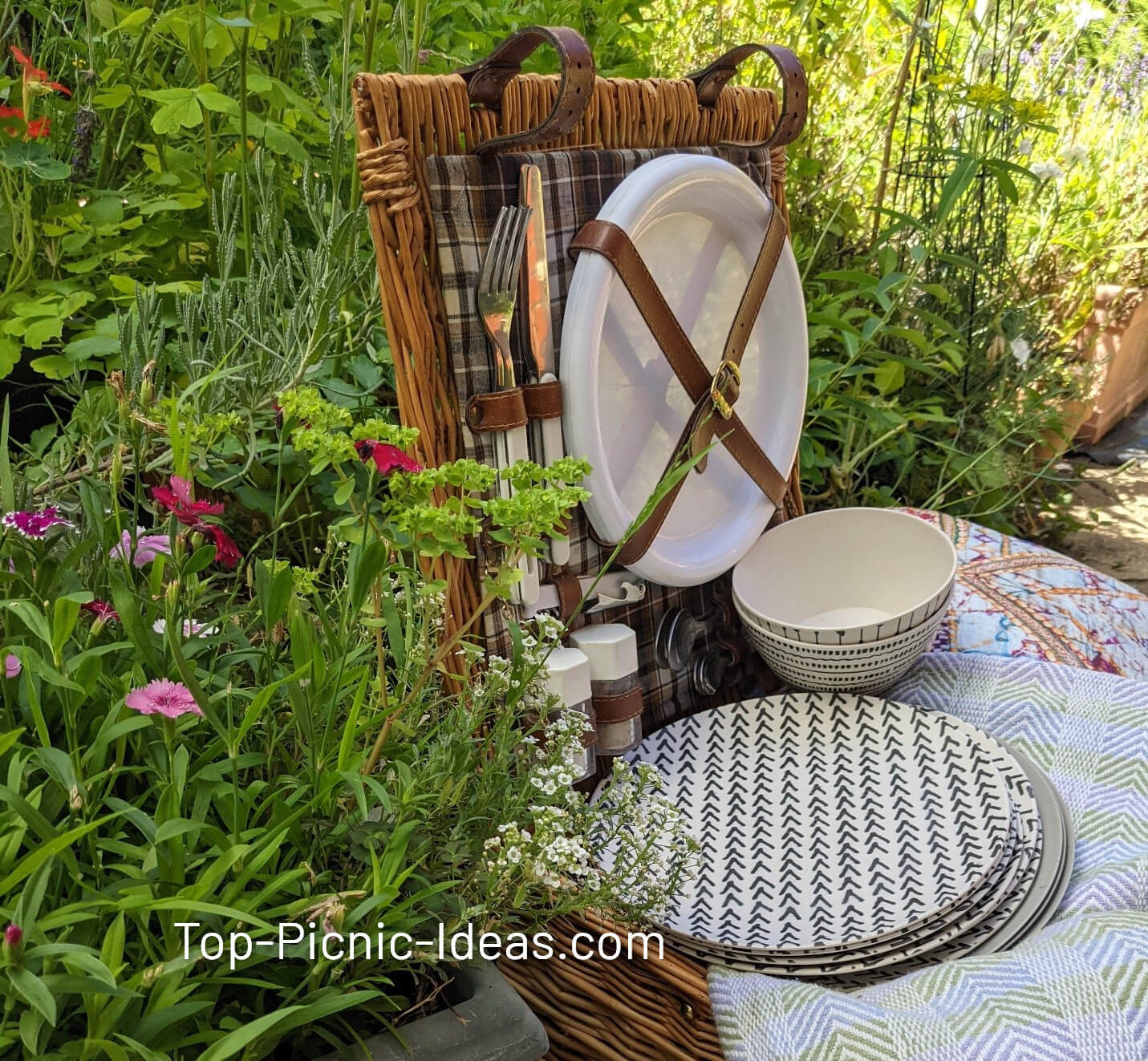 Plan Your Picnic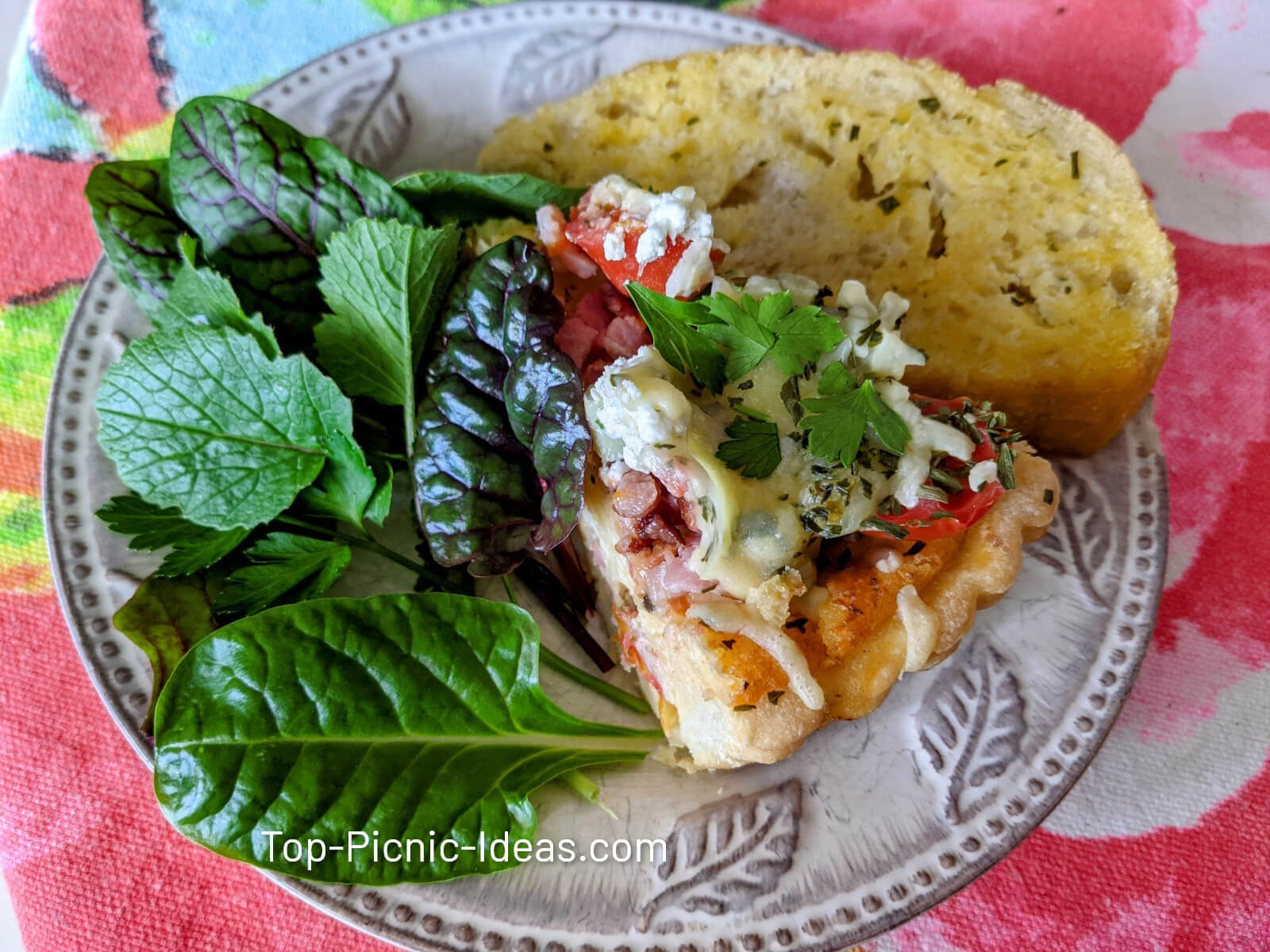 Picnic Food Ideas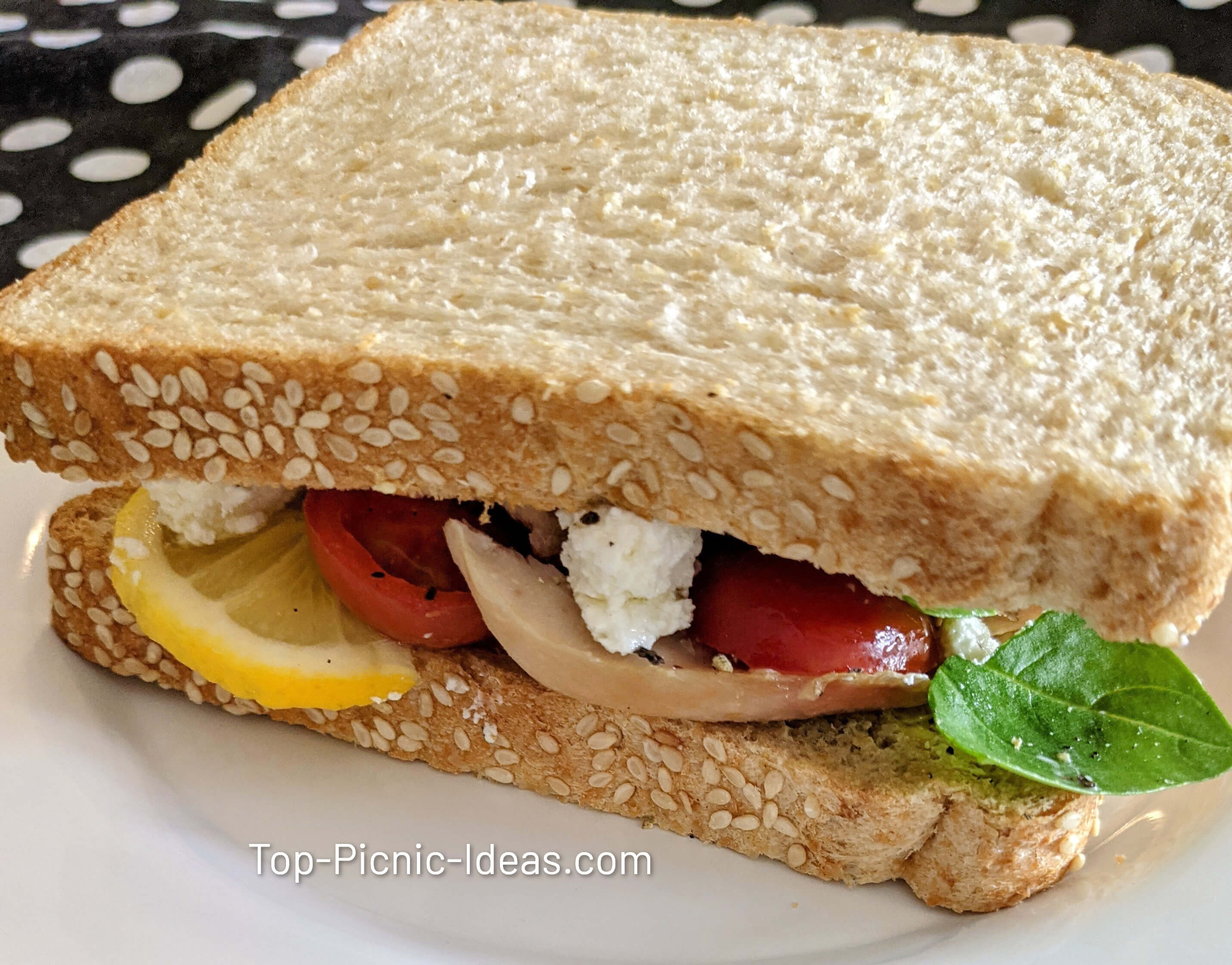 Sandwich Recipes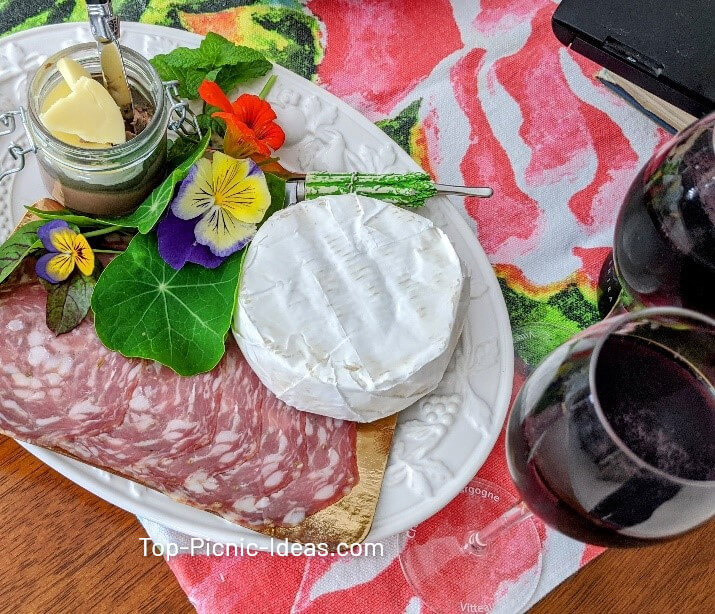 Easy Appetizer Recipes
---