Easter picnic food ideas...

Are you looking for great food ideas to take to your picnic?



Then you're in the right place!




OK, so Easter picnic food ideas are needed for a picnic?
Many happy lazy picnics have been shared over Easter… a very happy tradition!
For us... it is mostly beautiful autumn weather, gorgeous autumn leaves, often a fresh breeze on warm sunny days.
Wonderful for walks with the family and the dog... after devouring the delicious picnic food of course!
If it's spring for you… lucky you! That is an amazing time for a picnic…
To have walks through the park and along trails in the woods, with sweet smelling blossom and daffodils in Spring.
How very gorgeous!
Now it's time to sort out your Easter picnic food ideas! What will you take?
Sometimes for Easter picnic food ideas, we organize for someone to take one course for all...
for instance... the dessert, or desserts, for everyone.
Someone else to take the main savory food…
salad supplied by someone else etc.
Or, will you take food for your family, the whole picnic? Time to pool your food and share.
I'm not sure why, but food made by someone else always seems to taste better, doesn't it?

It can be a real feast and a lovely surprise for you, if you haven't had to do it all.


Chocolate always springs to mind at this time of the year...
Easter picnic food ideas really need a recipe for edible Easter egg NESTS.
Make your picnic a hit... use this easy recipe for edible Easter egg nests.


It's always fun to take a few extra things to put in the picnic basket...
Chocolate always seems to head the list and I will show you how to make very special chocolate nests to fill with mixed Easter eggs.
This stand was found in a charity shop and is great for a picnic... it is light and comes apart to travel. A lucky find!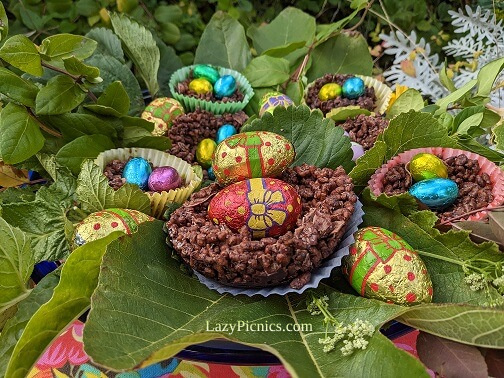 But, if you haven't been lucky enough to find a stand like this... just use a plate... or tray.
If you have clean ... and not poisonous... leaves... scatter over the plate and then tuck the nests and eggs amongst the leaves. Big leaves, such as vine leaves are good... or spinach, or lettuce are good too!
This platter has big fig leaves, grape vine, honeysuckle, bay tree, geranium, strawberry leaves and a couple of parsley flowers.
A mixture of big and little leaves like strawberry or pansy leaves look really great... even a few twigs tossed in, for fun.

A mixture of the easy nests and lots of chocolate eggs from the shop really brighten up the picnic table... kids... and friends, love it!
To make chocolate Easter nests... Find the recipe below...
The Easter picnic food ideas should be discussed and sorted with friends and family.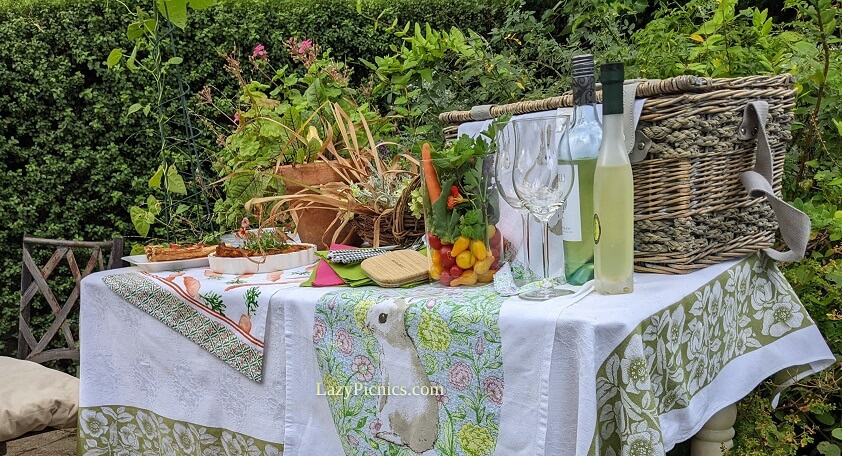 A plain table cloth covered with a special rabbit tea towels... and carrot cloth too...
collected specially for an Easter picnic.


For Easter picnic food ideas, have a bit of fun decorating the table... especially if there are children sharing your Easter picnic food ideas!
Enjoy finding something like the rabbit/Easter bunny tea towel, to spread over the table cloth.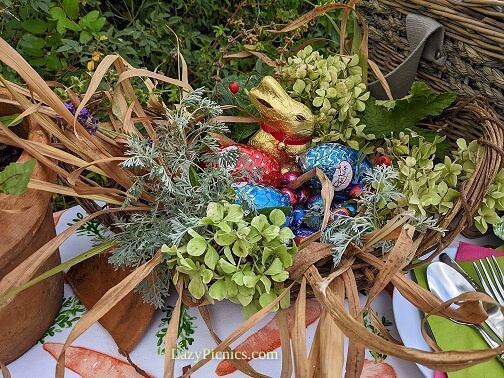 A nest made of twigs in a pot, or basket... Even have the children make nests... then fill with chocolate eggs and a chocolate rabbit... on the day perhaps!

The salad with whole baby carrots and other stems of greenery, just for fun. Make a dip to have with this salad.
Please join us on Pinterest...  and Facebook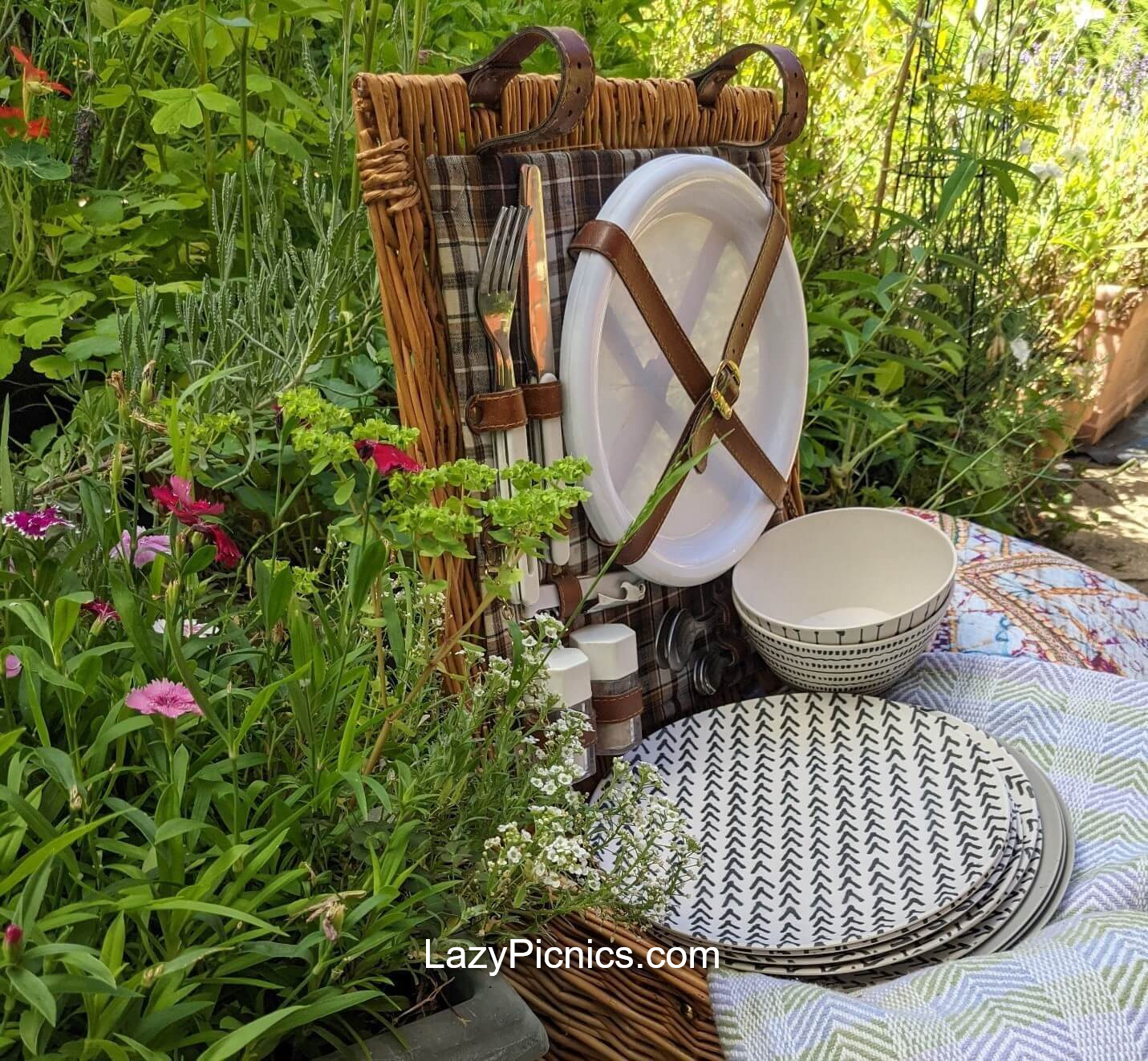 Picnic Planning Ideas
TOP TIPS…
Prepare food ahead if you can.
Folding chairs, cutlery and other things needed for a picnic, are taken by each group.
Check the planning ideas to see what you need to take. There are 8 lists here for you to tick off!
Pack most things the day, or night, before you go, if you can. It's lovely to get up on the morning of your picnic and have most things ready for you to head off to the picnic.
It's a good idea to put your name on your cutlery, bowls and so on. Somehow we still manage to mix things up quite often, when packing to go home! Use an indelible pen… even just your initial, or nail polish on the bottom of a bowl, is helpful. My Mum Nance, taught me that.
---
Ideas for easy delicious Easter picnic food ideas, check here...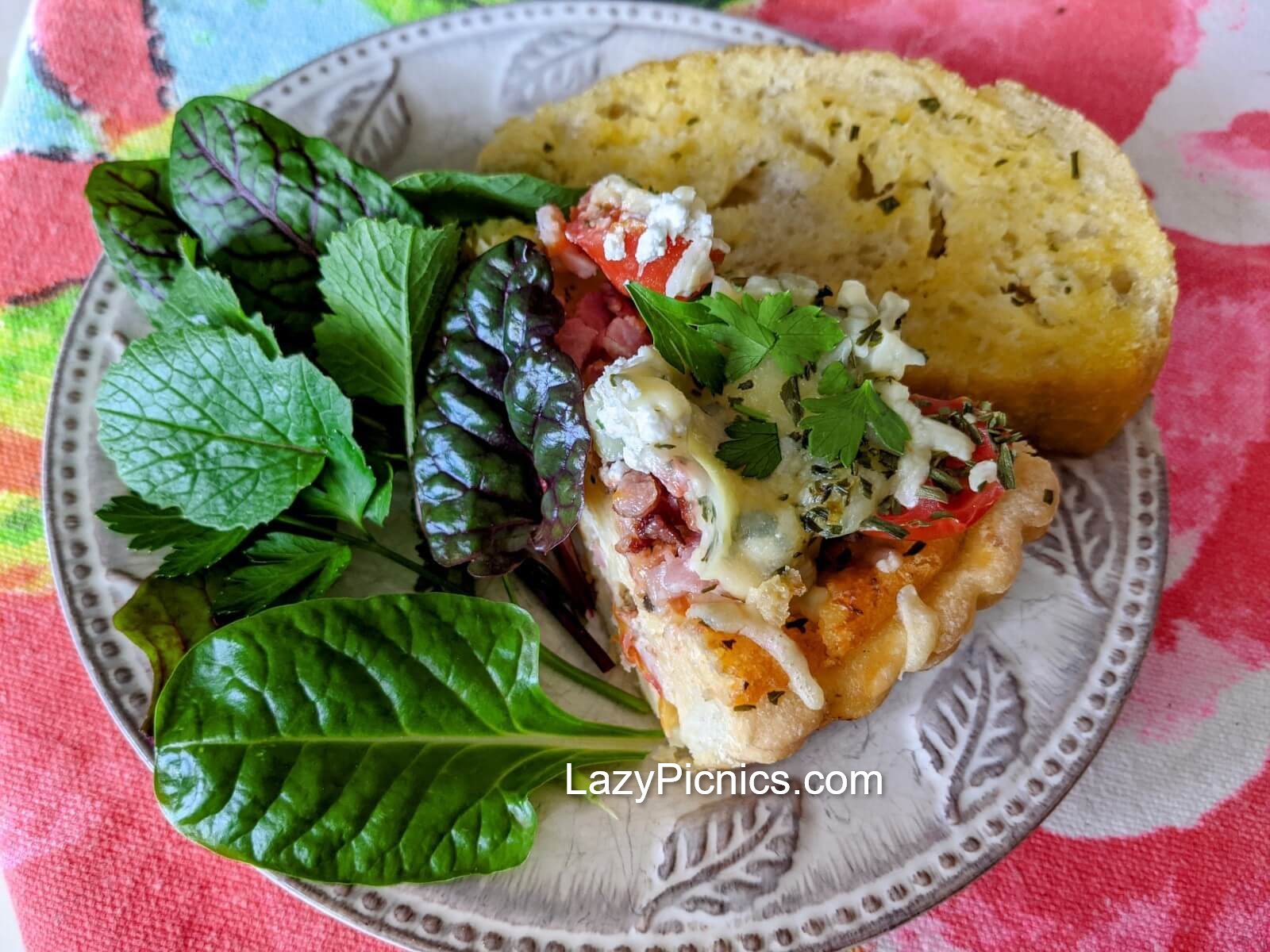 Picnic food ideas
This is a good place to start thinking about what food to take for Easter picnic food ideas.
Showing how... step by step... to make a last minute picnic with easy/cheat food... and more suggestions.

Quiche, your choice of flavors.
Easy appetizers.

Garlic bread... for every picnic!
Easy salad.

Simple dessert.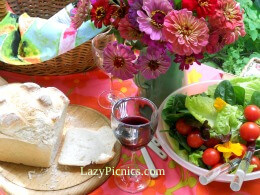 picnic lunch ideas
More Easter picnic food ideas can be found here.
Jenny's Brussels sprouts bake.
Cold meats… ham, beef, lamb, pork, or chicken.
Juicy, rare roast beef on yummy crusty bread.

An open faced sandwich.

Chicken in avocado... very versatile.

 Egg and bacon pie.
The gorgeous tomato tart... with variations.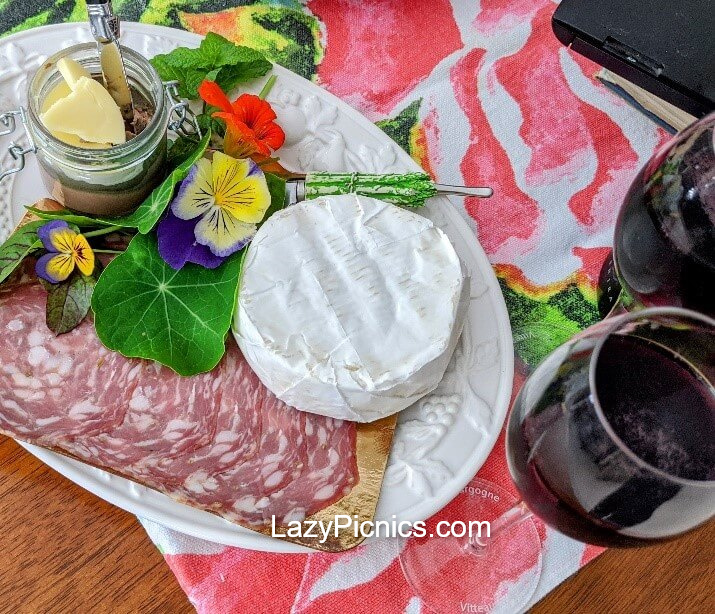 Easy Appetizers
Take easy appetizers... or try the easy appetizer recipes, they are delicious and simple to make.

Suggested platters for you...
Make a delicious collection of dips, nuts, pretzels and dried biscuits.
Choose tasty cheeses, olives, dried fruit... and fresh fruit like pears and figs or peaches.
You will find more when you check the lists of appetizers.
Or... Make pesto for dipping into.
Bowls of...avocado and crunchy walnuts and a bowl of hummus.
How about a tasty olive dip, or smoked salmon wraps... very impressive!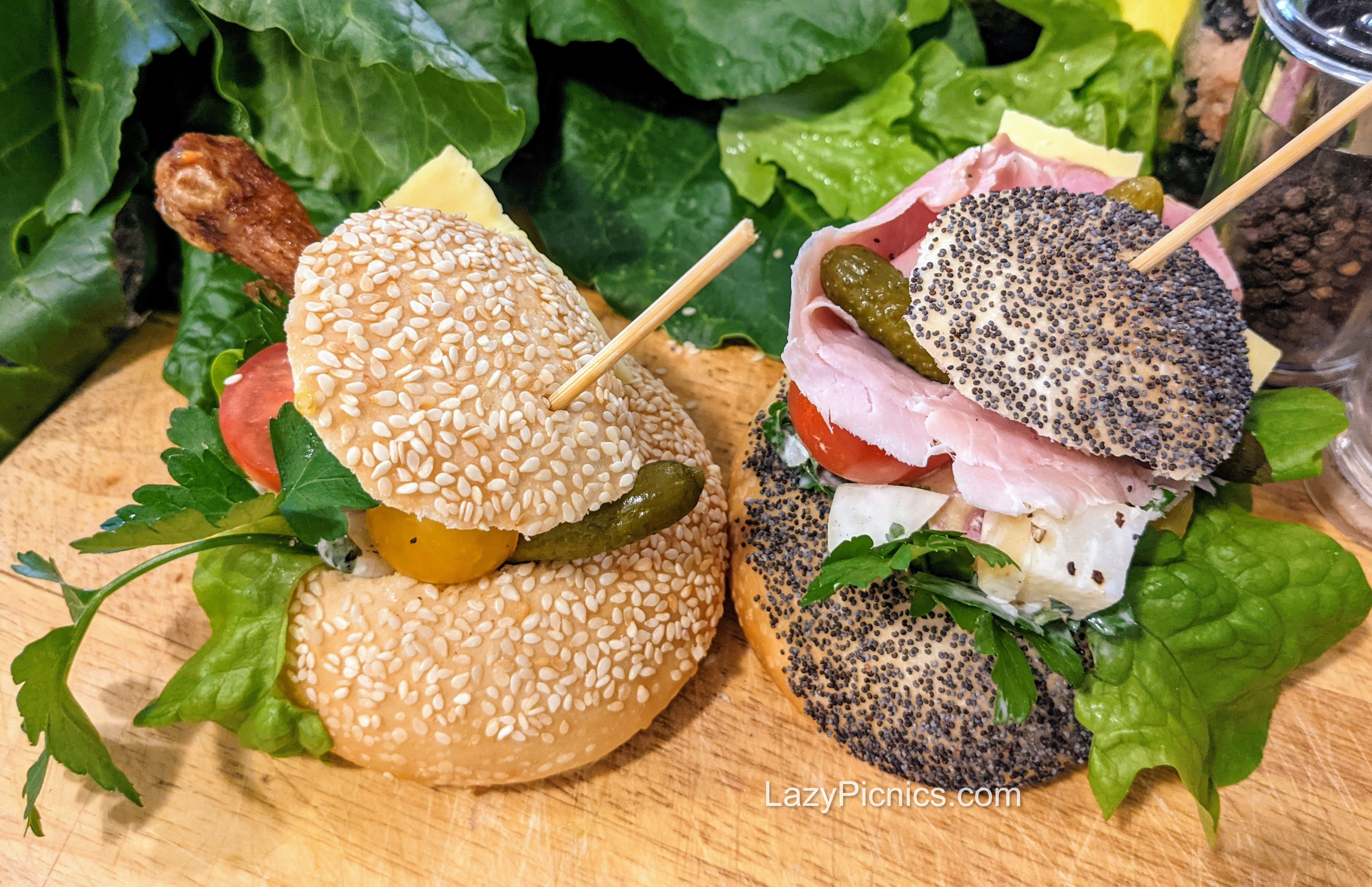 Best sandwich for a Picnic
Picnic sandwiches and rolls... really tasty ones, special for Easter picnic food.
Often sandwiches are the easiest food to take to a picnic... especially if you make them really lush and delicious.
You will need to take extra!
Bread or rolls... or your favorite wraps, baguette or your local specialty.
You will find inspiring lists of ideas here... best sandwiches for a picnic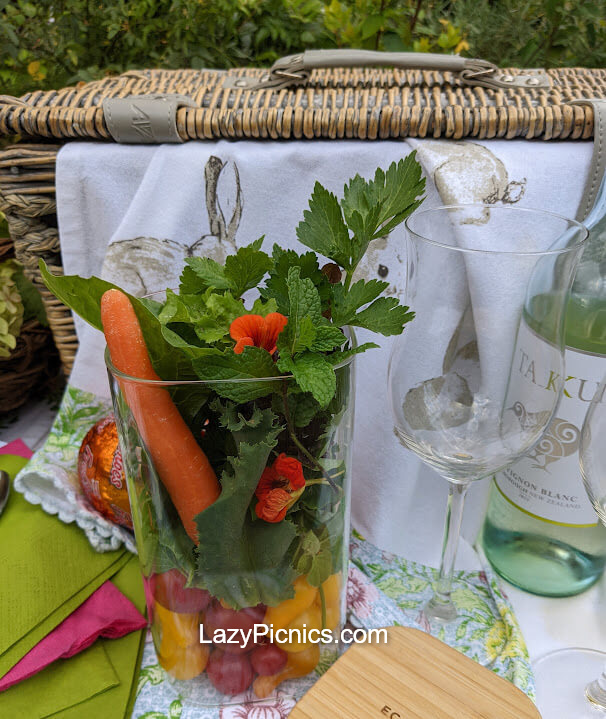 Picnic Salad Recipes
Picnic Salad Recipes... There are easy dressing recipes to help with the salads.
So start with...
Salad dressing with variations.
Mayonnaise and other suggestions using this recipe... including simple Aoili.
Find... A classic green picnic salad recipe.
Dipping salad to go with the carrot for the Easter bunny.
Potato salad... a favorite old German recipe.
Tomato and cucumber salad, very versatile.
A Greek style salad.
Quinoa salad, full of delicious and interesting ingredients.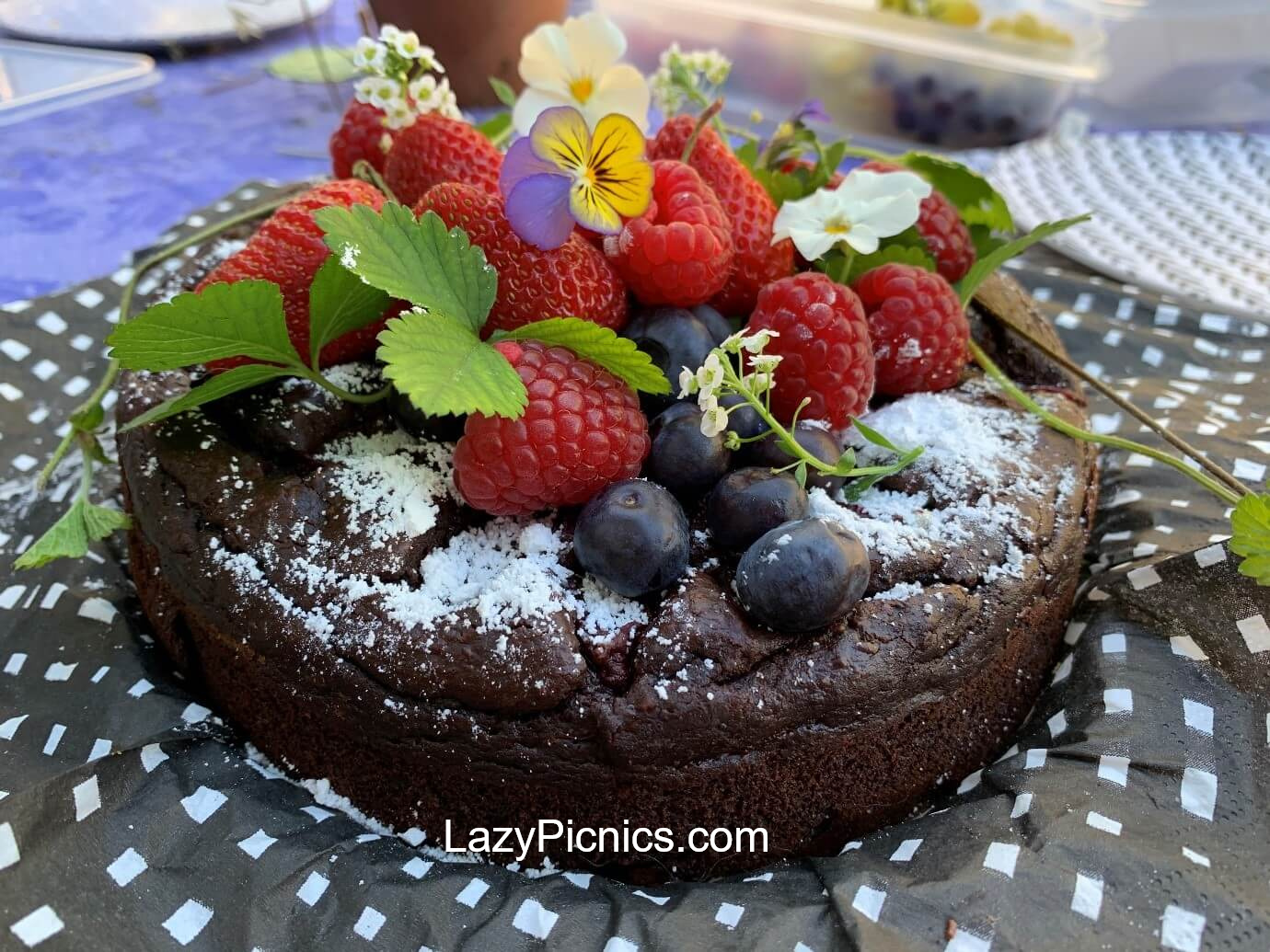 Easy Picnic Cake
Easy Picnic Cake and Dessert Ideas to choose from...
This is a delicious part of any picnic... so for your Easter picnic food ideas look through these suggestions.
The chocolate cake pictured is flourless and sugarless. Does this mean you can eat more chocolate?!
Nance's sponge and butterfly cakes are so special and light, as sponges should be... an extra hint here.
Banana cake with prunes (optional)... another old favorite with our family.
Whole orange cake is a winner and very popular!
Picnic Dessert Ideas
Hints and suggestions here...

One of our favorites has to be the scones... once again a very special old recipe, light and moist.
Simple trifle... so handy for a quick picnic too.
How to poach delicious fruit.

and Little strawberry baskets are a hit too!
This is how to make really, easy edible chocolate nests...
This recipe used to be on the packets of Rice Bubbles and
we often made chocolate crackles when we were kids...
and then our children made them too.
These crackles have just turned into nests!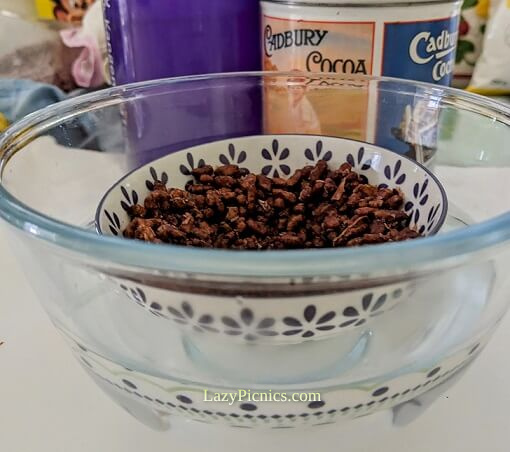 You will need...

A 250 block of Copha... is a vegetable shortening, made with more than 99% coconut oil and less than 1% soy lecithin.
4 cups of Rice Bubbles, or Coco Pops.
1 Cup of coconut... a mixture of flakes and dessicated.
1 Cup icing sugar.
1/2 Cup Cocoa.
To make...
In a large bowl add all the dry ingredients and stir together.
Melt the Copha.... gently on the stove, or in your microwave.
Add the Copha and stir well until amalgamated.
Now, as they are nests, they don't need to  be neat... rustic edges are fine... or good!
Find a few small bowls ... or one large one if you like.
Spoon the mixture into the bowls and press into bowl to make it look like a nest for eggs. Use the back of a spoon for this.
Make sure they are thick enough so they don't collapse when taken out of the bowls.
Pop in fridge to harden... over night, or a few hours until set hard.
To remove them from the bowls... just pour hot water into a larger bowl (not high enough to overflow into nest!) and let the chocolate melt at the edge.
Slide a knife into the edge between the nest and the bowl...and move around when the outer chocolate has melted a little... then just flip out gently!
Its a good idea to sit the large nest on a flattened patty pan. This stops it sticking and keeps the nest clean and easy to move.
Also, patty pans... or muffin cases... to make small nests..
Make the same in the little paper cups to make small nests.
Leave the nests in the cups.... they are easier to take to a picnic!
Fill all the nests with pretty chocolate eggs from the shop.
Enjoy your recipe for Easter egg nests, fill with decadent chocolate eggs...
or those favorite eggs that you have made!