Looking for the best picnic ideas?




They're here for you!




... Find great ideas from an avid picnicker and her happy picnic friends.




We love the thought of  using the best picnic ideas, packing up delicious food and heading out

to breathe the fresh air... to relax... and enjoy the company of friends.... don't you?
Sometimes though, the thoughts are great, but the actual doing this, can be daunting.
Let me help you... let's make your picnic stress free and a fun experience!



Find help by using these easy, best picnic ideas... Be inspired!
Delicious food, simple to make... great recipes, our old classic favorites and fresh new ideas too.
How to plan a picnic with lists to guide you... so you don't forget anything!
Creative picnics.  How to plan... from a picnic for two, to a lovely family picnic... and many more.
Let's have a bit of fun!
Could this tomato tart recipe be part of what you plan for your next picnic?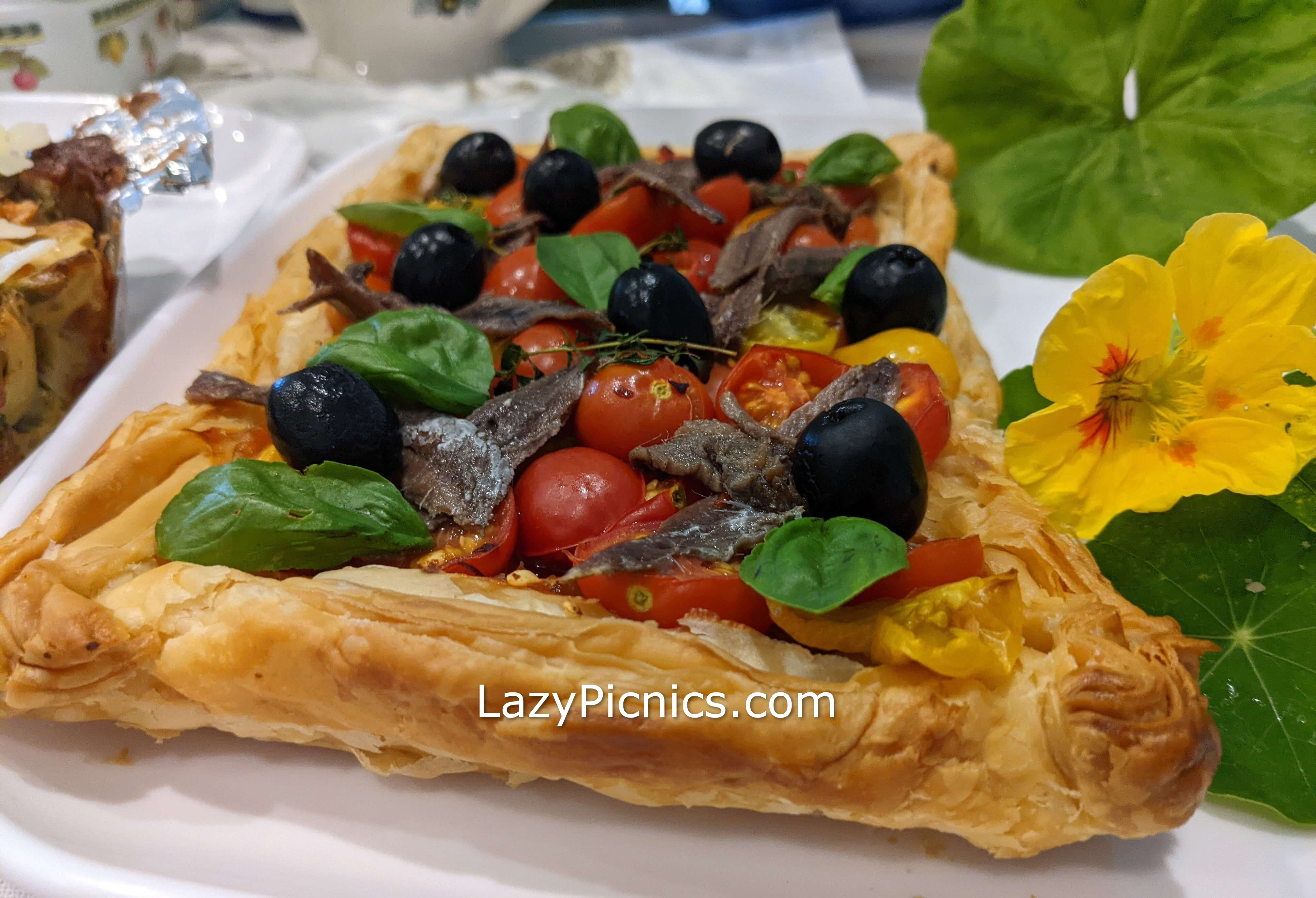 Really simple to make... and oh so delicious!
Check lunch ideas


Gather ideas from really great picnic food... choose from our suggestions!

Cakes, flans and a quick way to make a quiche, yummy sandwiches... not the old school variety.
Salads... and much more for easy picnics.   
Are you looking for inspiration?
Creative suggestions?
How to plan and what to take for a picnic for two, or a full blown family picnic... and more!
From these suggestions for best picnic ideas...
use the classic ideas we have used for many, many, great picnics.

Just like this picnic by a lake in the Adelaide Hills...
Having eaten delicious food some had a lazy chat...
while the energetic walked the dog... see my story for that photo.

Plan a really happy, relaxed...  lazy picnic.
So, someone suggested a picnic?  Wow... a great idea... but the best picnic ideas?
Is a bit of inspiration needed?  Do you want more than the usual old picnic... do you need to know...

What to take...
what to drink...
what to put in the picnic basket...
and what picnic food ideas?
Enjoy the latest picnic recipes and valuable hints...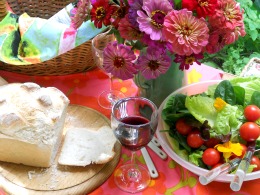 Join our free "Picnic Chatter"
Let's chat picnics!
 For best picnic ideas you will need an easy picnic cake.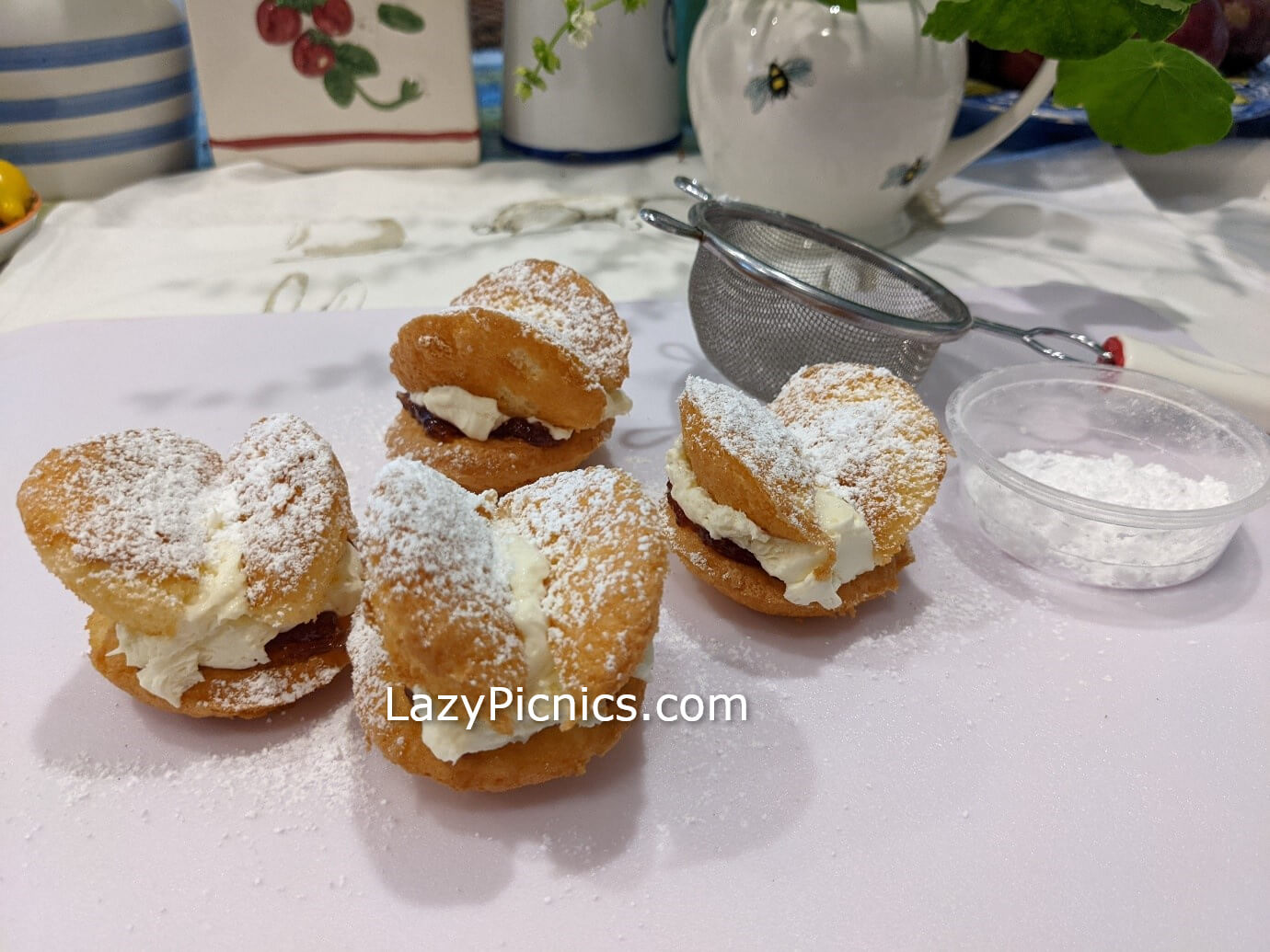 Butterfly cakes, light and delicious, simple to make and they travel well... try them!




Some of the easy picnic cake suggestions include...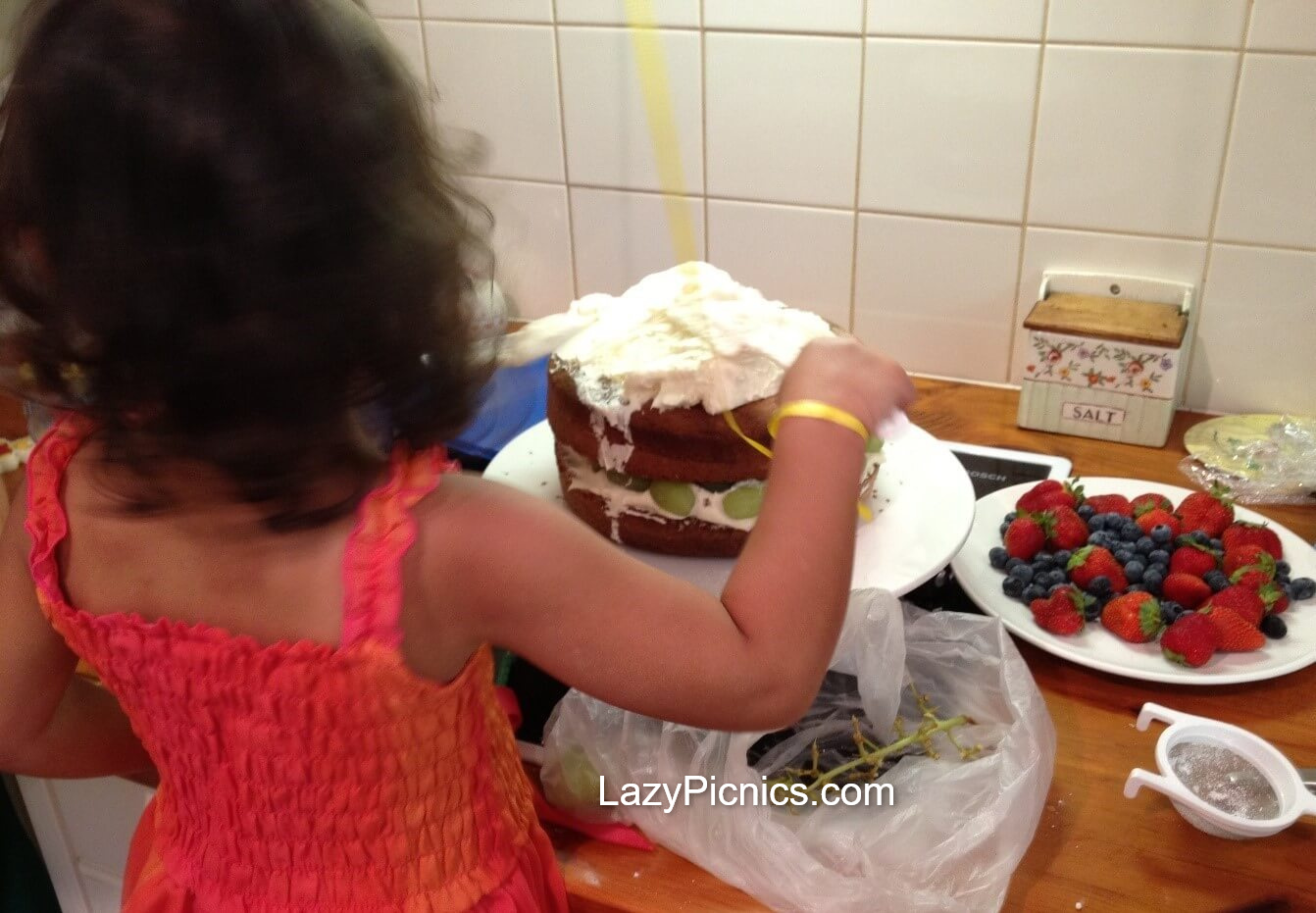 Our family's favorite sponge... my Mother Nance's recipe
The butterfly cakes of course
A great new sugar and flour-less chocolate cake
Simple trifles... wonderful for a picnic for two
Banana cake with prunes... simple and freezes well, ready for picnics
Banana cake muffins

Recipe for whole orange cake.. very popular



I
If you are you looking for the very best picnic ideas...
Suggestions here are from...
Old recipes and new... and much more.
The old family books... and pieces of paper with old recipes not filed, are being checked for family specials.
Up to date, fresh recipes... modern ideas, great for picnics!
Friends and family have shared their favorite picnic recipes and I will share mine as well!
Our best picnic ideas will help you have happy days and the chance to enjoy a really great day in the countryside too! 
Have an amazing lazy picnic!
Find favorite, easy picnic food ideas...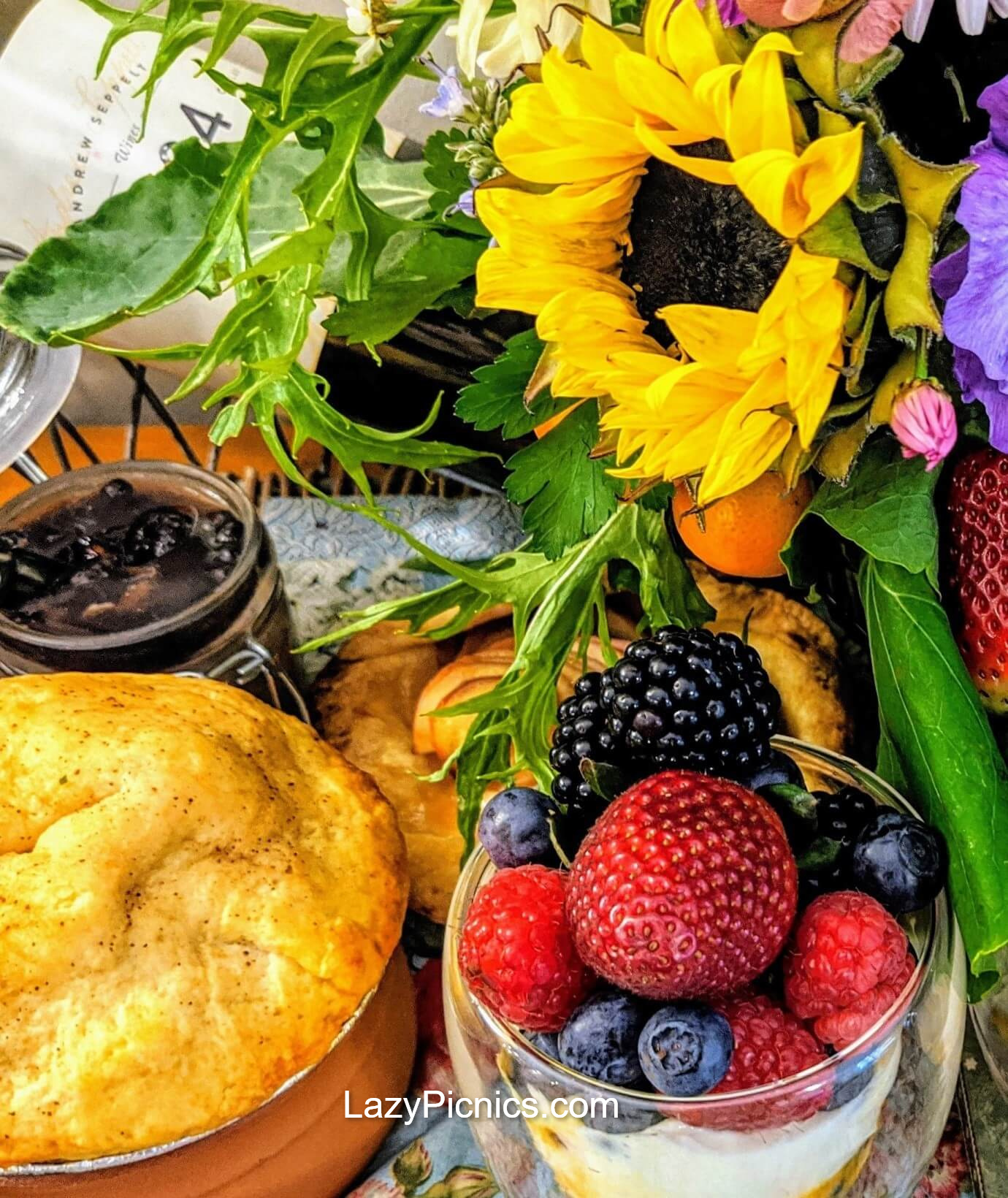 Delicious food... including our version of trifle to travel... take them to your last minute picnic!


 With these best picnic ideas you will...

Enjoy planning with these picnic ideas, including easy, delicious picnic food.        

 Find all you need to take to a picnic... follow the eight picnic planning check lists.
Plan everything for a relaxed outing under an old shady tree,

Plan a lazy day at the beach
Ideas for a family gathering 
Even suggestions for a romantic picnic for two
You will find all you need to know, to plan that successful, stress free picnic!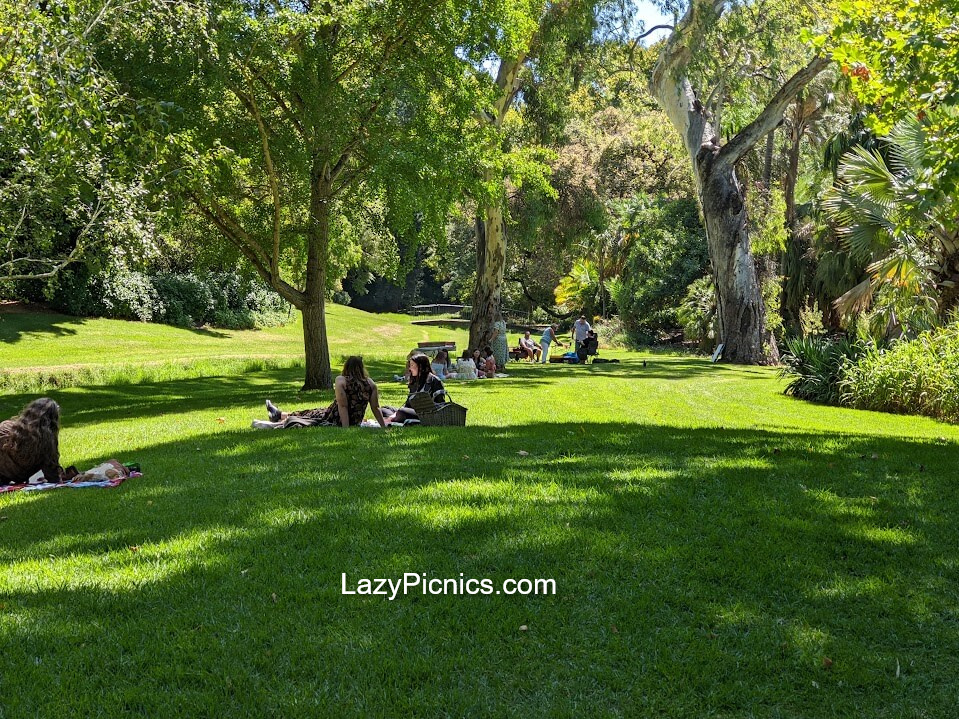 A sunny day, a beautiful park and groups of friends lazing on the picnic rugs... what could be better?

 Why look for the best picnic ideas? 
Enjoy these moments!
You can have a load of fun... and perhaps you can relax and enjoy yourself after preparing with these ideas!
I'd love to share with you our best picnic ideas. We have had soo many happy lazy picnics with family and friends.

You can enjoy these experiences too, when you use these best picnic ideas and plan well...
Long carefree walks with deep discussions.
Infectious laughter.
Muddy paws and waggy tails.
Lazy moments... even the odd sneaky nap with full tummy and hat over face.
Occasionally, tears from grazed knees... they'll mend.
Deep discussion on the best place to put the table and chairs, or the rug... sometimes tension, soon forgotten!
And lots of really delicious food shared with old and new friends... that yummy, really great picnic food.
---
---
 But most of all, the best picnic ideas will make
precious memories... around the picnic baskets
So Let's Fill those Picnic Baskets !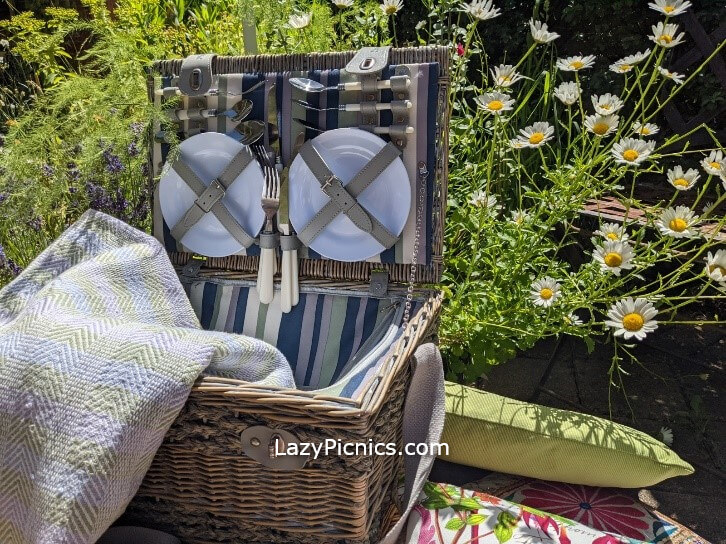 Being mad picnic fans, we have years of great picnic experiences to share…
with really yummy food for lazy, happy picnics... full tummies and fun memories!

---
The best picnic ideas for those old family picnics, were quite simple...

but now ideas are more sophisticated... something really special!
Even a quick last-minute picnic will have...
delicious picnic food ideas
a bottle of wine.
often a lovely rug
or fun table cloth
a picnic table.
It used to be a mug of tea or water... now picnic wine!
---
Just look at this quick picnic basket for two people... I'll share the food for this picnic basket.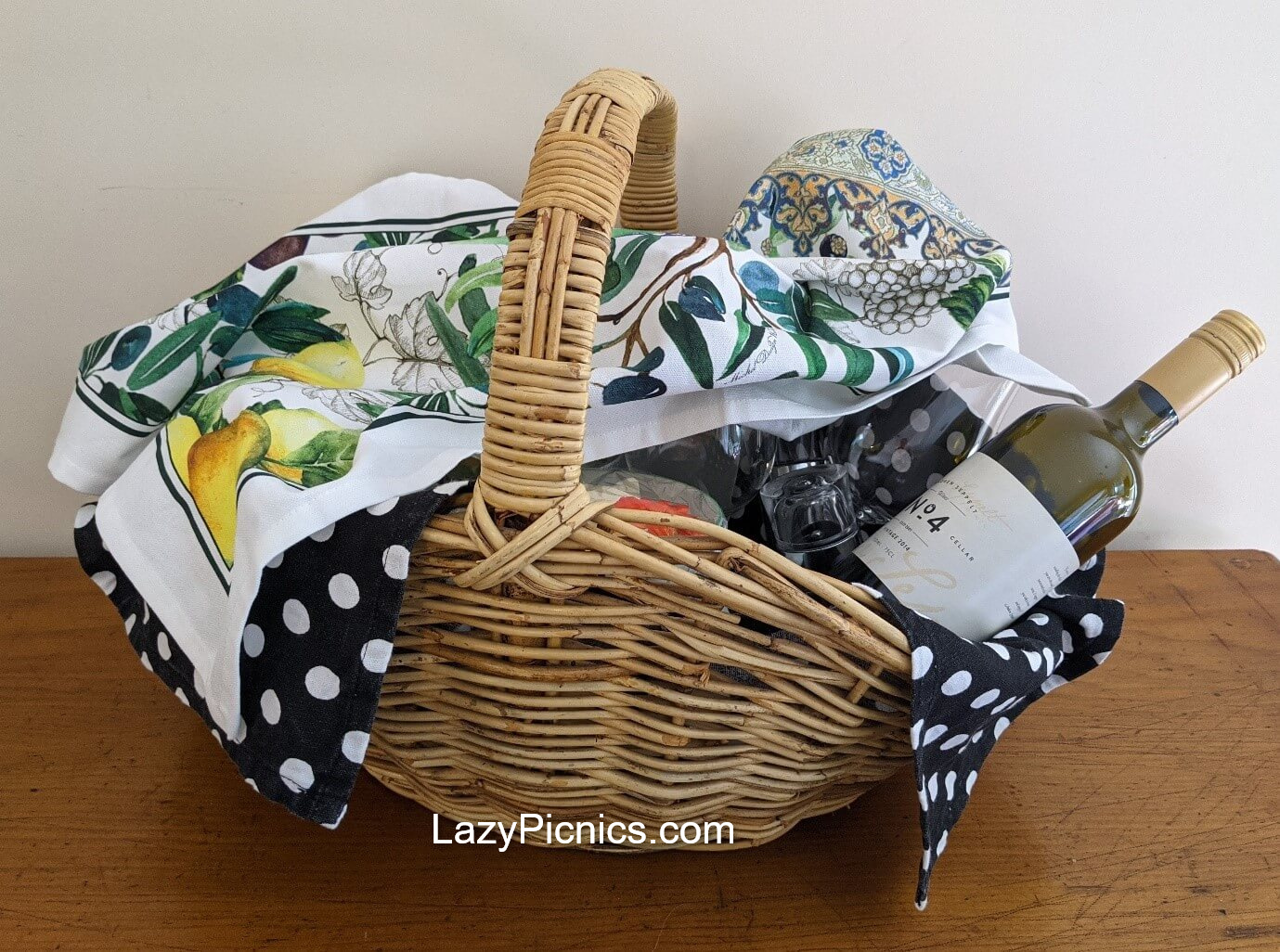 ---
So let's plan your picnic day out...
The first step for your best picnic ideas is to see the picnic planning ideas… this is where you'll find  the check off lists. Put together, showing all the basics that you need to take with you on a picnic… all the general bits and bobs from the dog lead to first aid kit and what plates and cutlery too.          
Just print off the planning lists to use as you plan and prepare... or have your phone with you to check.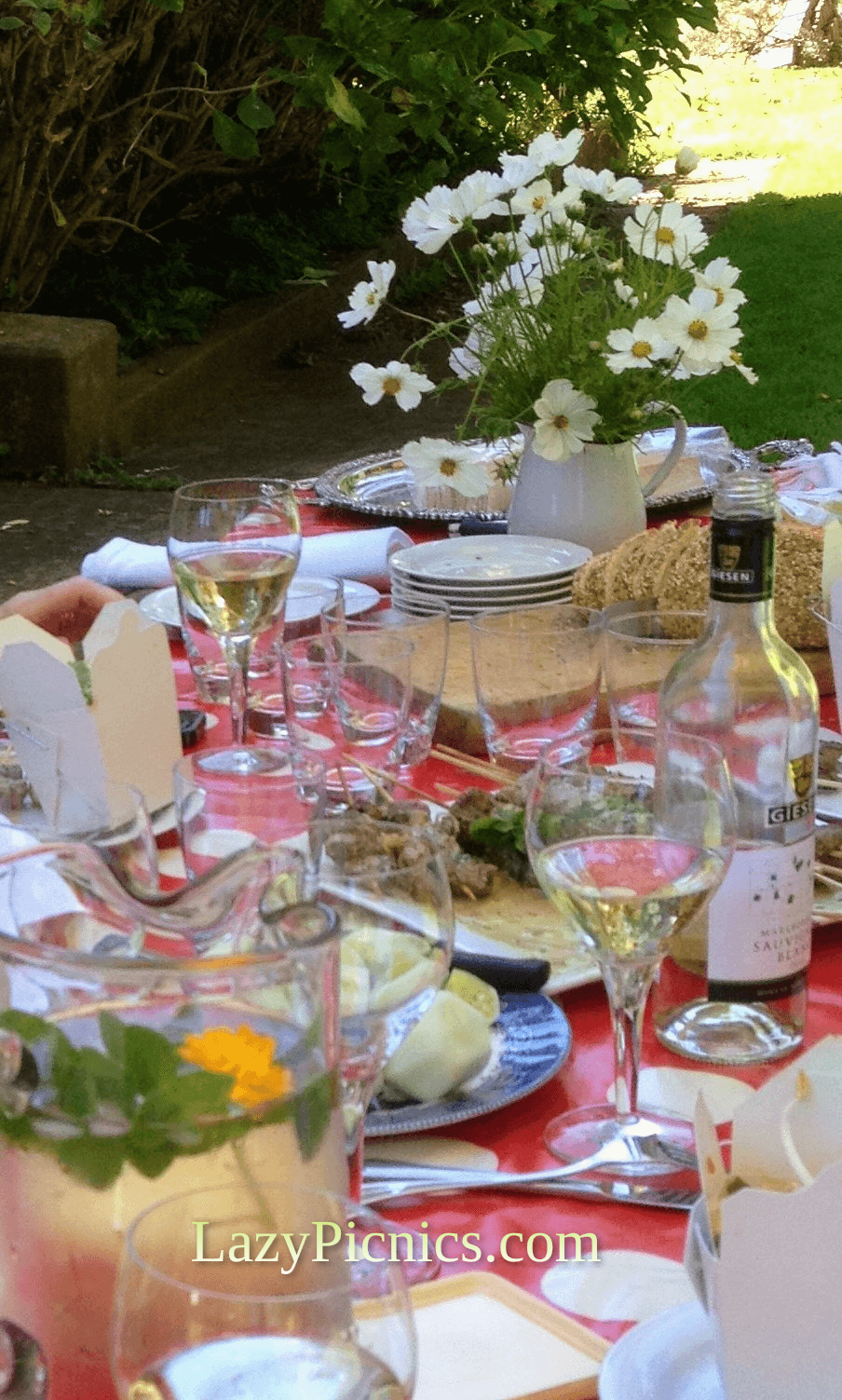 Need quick links for best picnic ideas?
For the best picnic ideas, follow on here to find more ideas and great tips... Help is here !
Gather your plates and other things needed for a picnic...
use the
planning lists
!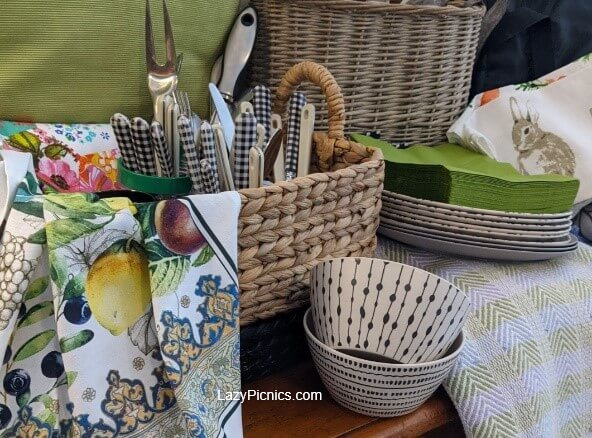 To start with, do you have any of these things...
plates
picnic rug 
cutlery
a picnic basket
dog lead
Do you need all of them when organizing your best picnic ideas?
A simple picnic might only need the basics.
---
A big part of a good picnic from your best picnic ideas, has to be the picnic food...
So, questions for You..

   1. Who is supplying the food…   you?
   2. Or are you sharing… and if so, how? 
   3. Is your picnic being catered for and you don't need to worry about all these things… not as much fun though!
After pondering those questions... the TIPS  below, will make your plans so much easier when organizing the best picnic ideas and you will know exactly what part of the picnic menu you are responsible for.
TOP TIPS... so, which picnic menu for you?

Run these ideas by your friends, things you, or they, might not have even thought of.
We often share best picnic ideas... every group or family, taking food, then pooling it. This can turn into a magnificent feast. 

There are times when we delegate courses… someone to just take easy appetizers, or just main course, someone else to take dessert and so on... you will find this works really well too and can take away the pressure of thinking of all the food. It gives you a chance to be really creative and to work on something special.

Here is a chance to make a special picnic with individual baskets, or containers full of interesting treats... like these parcels.

How about special parcels of picnic food wrapped in a cloth, or clean, pretty tea towel...
or a brown paper bag, tied up with string...

Fill with fun picnic food.
Everyone will have their own table cloth from this picnic basket.
Fun, delicious picnic food ideas!... with a surprise tucked in too?
For each person individually, when you're not sharing platters.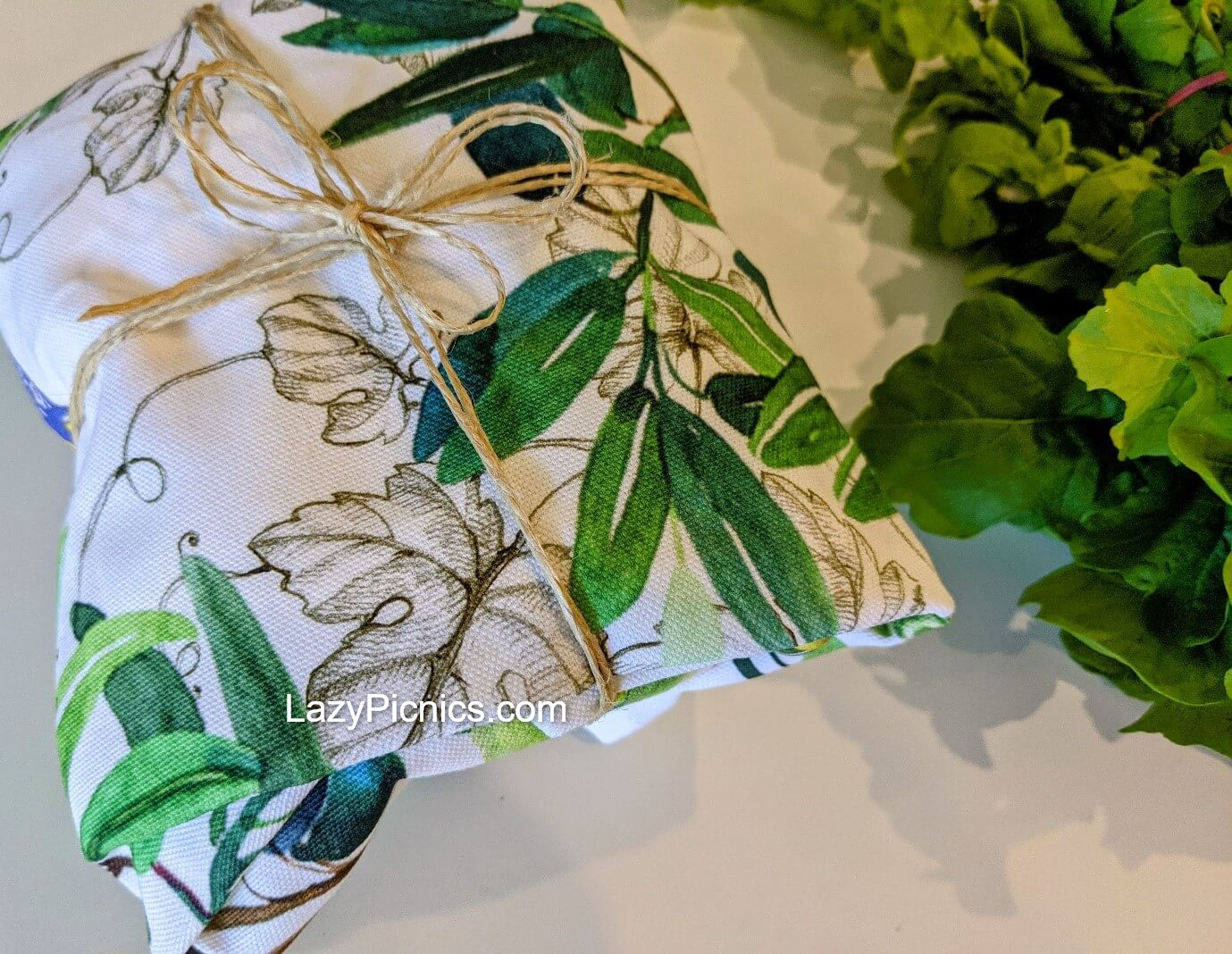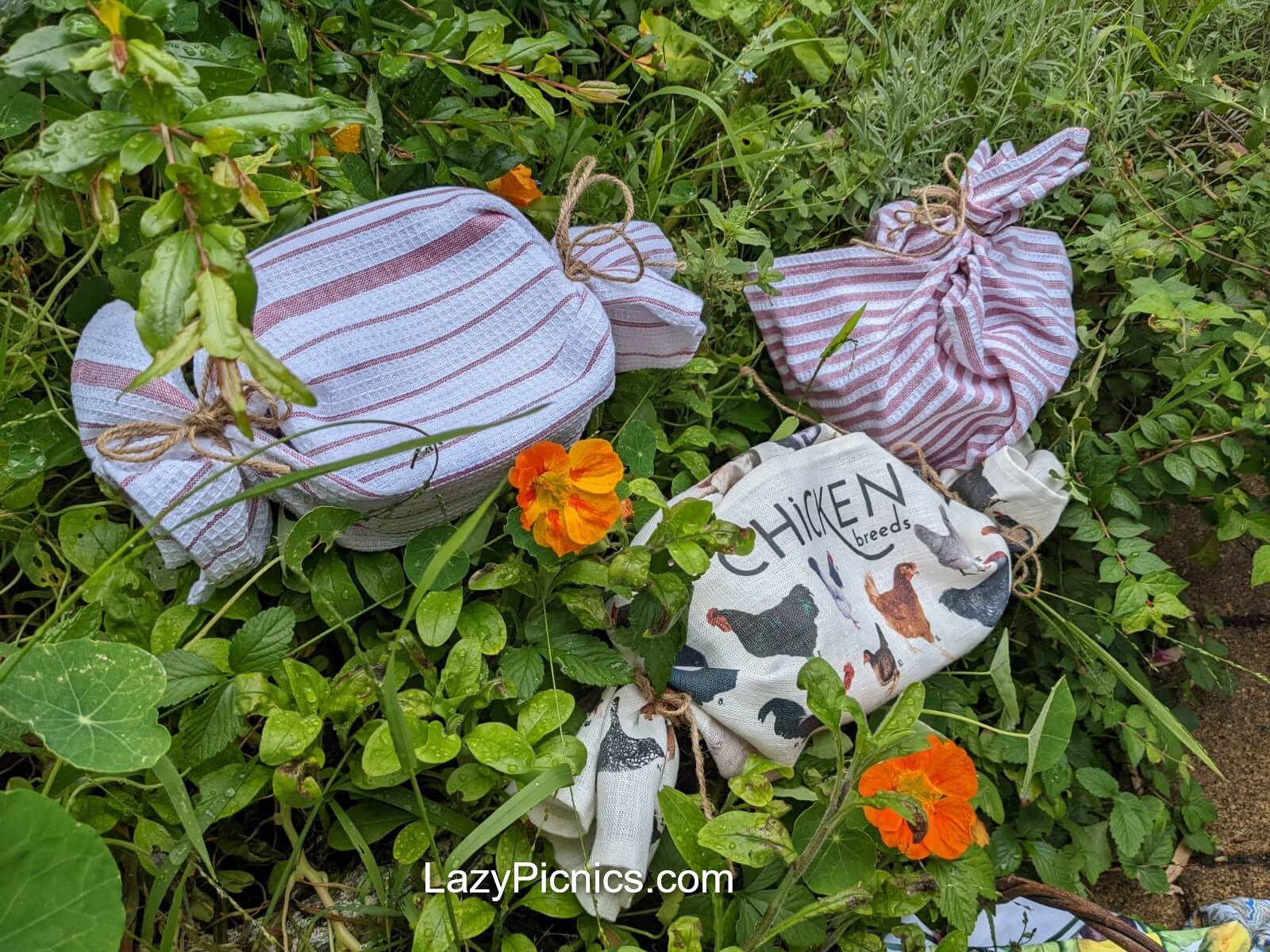 ---
Individual picnic parcels when it's difficult to share.
A great way to make special treats for children... or for a picnic in a car.
---
Even if this isn't your first picnic, I'm sure you will find new hints and
 best picnic ideas for a creative picnic... and easy delicious recipes for picnic food.

---
For the picnic food ideas I'll share my favorites and those from our family and friends… even recipes from amazing old recipe books.
Find suggestions, the best picnic ideas for...
a family picnic
a car boot
lovely picnic ideas for couples
even a romantic picnic
        ...and many more ideas.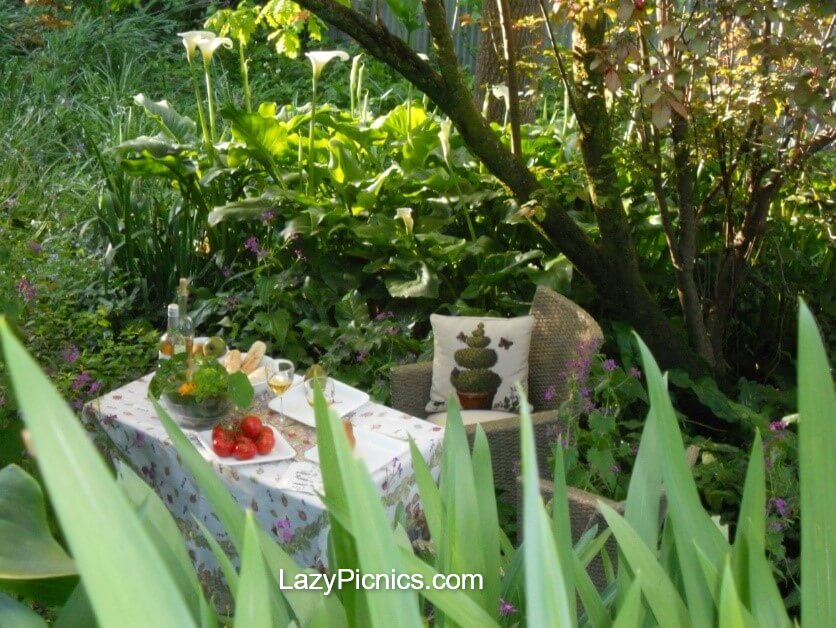 Find a Secret spot for a Romantic Picnic.

---
For your family picnics...
Enjoy the excitement of packing up food, taking the food and kids and dogs to a lovely park out in the open-air, where you might sit and relax with friends under an umbrella... and enjoy your best picnic ideas.
Then munch on great picnic food and sip on something delicious.…
while kids and dogs get into mud, climb a tree or...

while they run free, exploring the rocks at a beach picnic... with fists of food from your picnic food ideas.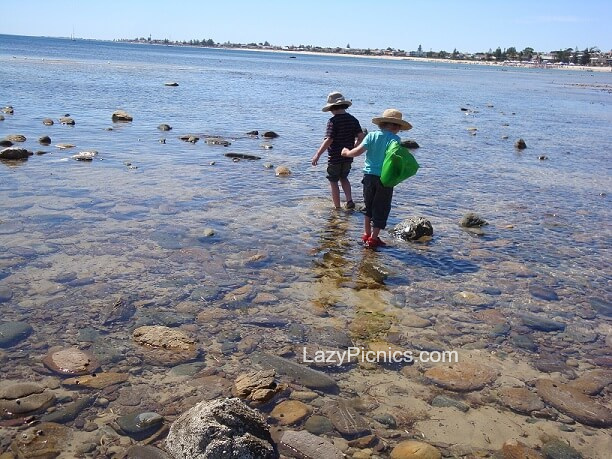 Let Them Run Free to explore the rocks, at a Beach Picnic ! 
Everyone will be so impressed with your organizing skills and your best picnic ideas... Especially when they nibble on easy appetizers you've put together, then see the really delicious dark chocolate cake... flour-less and moist. Will you share that it was easy to make? 
It's always tastier when you're out in the open-air and you have prepared the great picnic food ideas yourself.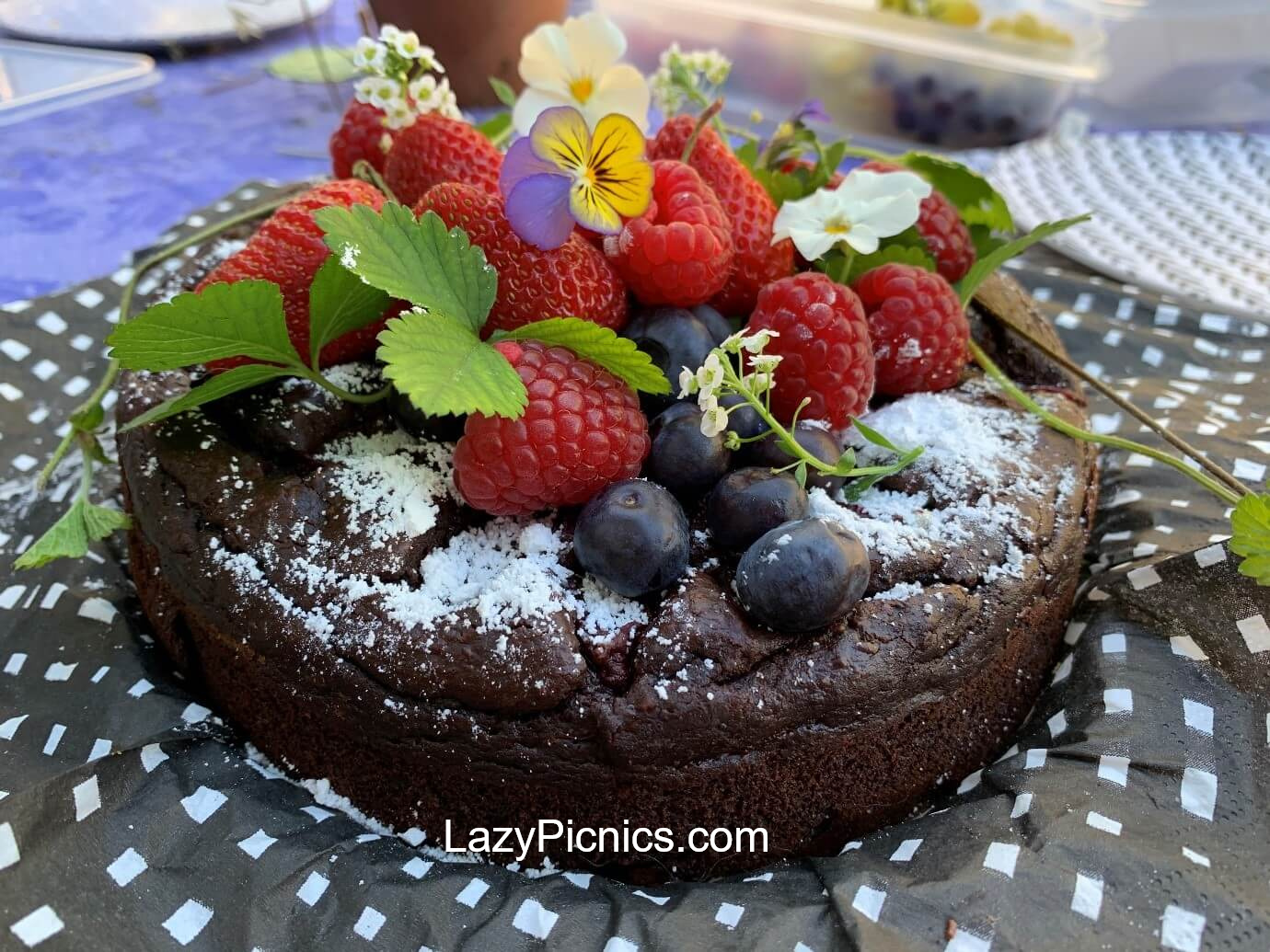 You can make a really delicious...  moist, flour-less, Chocolate Cake


Show off your new picnic skills using our best picnic ideas and suggestions!
While the girls set up this rustic picnic... sitting on a huge log beside a green paddock...

as you do!




...the bush kangaroos hopped by to check them out!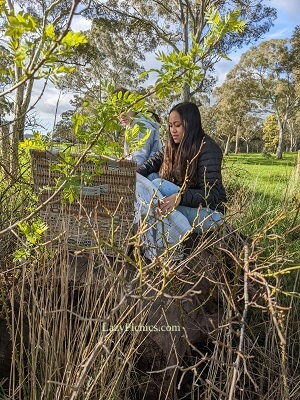 Do you need a creative picnic, really inspiring, with fun ideas?... then have help planning one of these picnics... some suggestions still to come.
A lovely picnic by a secluded stream

A picnic in the park
Rustic, in an outback paddock
Even delicious things for a picnic concert evening
A corporate picnic
Glamour for a formal race meeting picnic
Fun teddy bears picnic
Find easy things to put on the kids picnic table 
Maybe a retro setting, for a fun girls day out.
The food, decorations, invitations. The "must haves" for a picnic themed party perhaps.
Or, set up on an old log, or tree stump!

Where has your family picnicked?
Will you enjoy days in your local park, or more exotic places by French streams, in American Forests, along English lanes, or as we have in Australian outback paddocks and many more special picnic places.
We have been so lucky to experience many great picnics, but most of our outings have been close to our home... in a local park... just as you will possibly find too.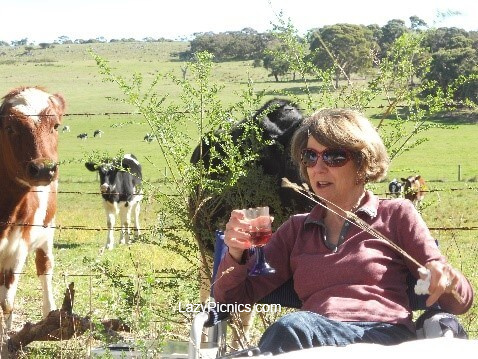 There have been times when we've been visited by friends in a paddock...
an alpaca, or a horse, even a few cows wondering what we were up to.


So, wherever you are... just enjoy your picnic... and meeting new friends!
---
Just use the masses of picnic ideas gathered... and the suggestions for planning a picnic...
this will make it easier for you to have a stress free, fun picnic... with really delicious easy picnic food ideas too!
 See what this beautiful dog has to do with picnic planning!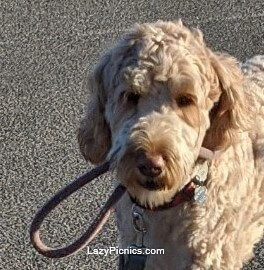 As this site progresses I will expand on these picnic ideas… and the best picnic baskets and folding picnic table and much more.
I'll also show you more of our family favorite picnic food ideas, to help you plan with ease knowing the recipes work.
I hope you'll share your favorite picnic ideas and places as well. So keep watching this site and book it into your favorites.
Something extra for you.
Take a few minutes, enjoy the latest picnic recipes and valuable hints...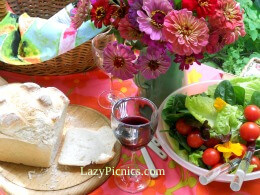 Join our free VIP's "Picnic Chatter"...
Let's chat picnics!
Find inspiring ideas, picnic yarns and new picnic recipes !
---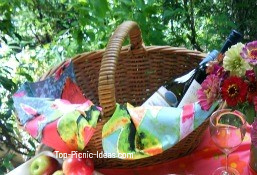 Leap Home... Fill the baskets!
Please join us on Pinterest...  and Facebook