Best sandwich for a picnic?



You can have the most delectable food,





but sometimes a really lovely, tasty, delicious, sandwich... fresh bread, with crunchy crust, is all you need!




The best sandwich for a picnic can be really basic and simple, or quite luxurious and really delicious.

You will love these ideas... some really extra special favorites.

You'll find they are quite versatile.


To make and enjoy the best sandwich for a picnic, there are some really delicious combinations to inspire you.
So simple for you to assemble... with heaps of choices and suggestions.
You will only be limited by your imagination when making these picnic sandwich recipes... so let your imagination fly!
Whether you make a regular sliced bread sandwich, a picnic roll, or home made bread, or long baguette filled to overflowing...
follow on here to see our really great suggestions and combinations.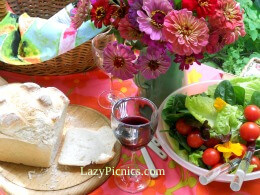 Join our free newsletter "Picnic Chatter"... Let's chat picnics!



Scroll down to see how to assemble the best sandwich for a picnic...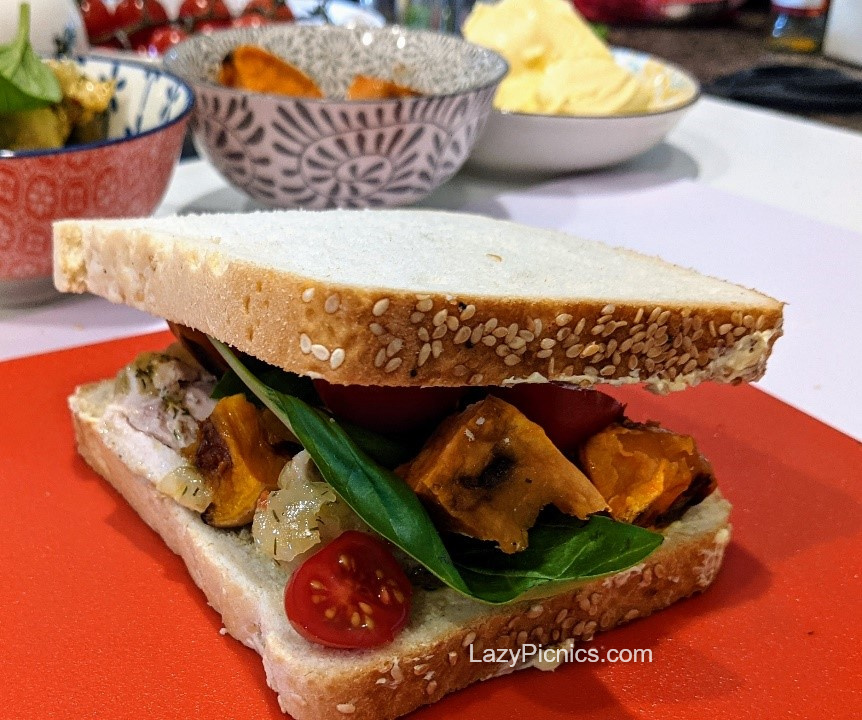 Try these
The best sandwich for a picnic can be found here... try these suggestions for a start.
Picnic Rolls can be really scrumptious!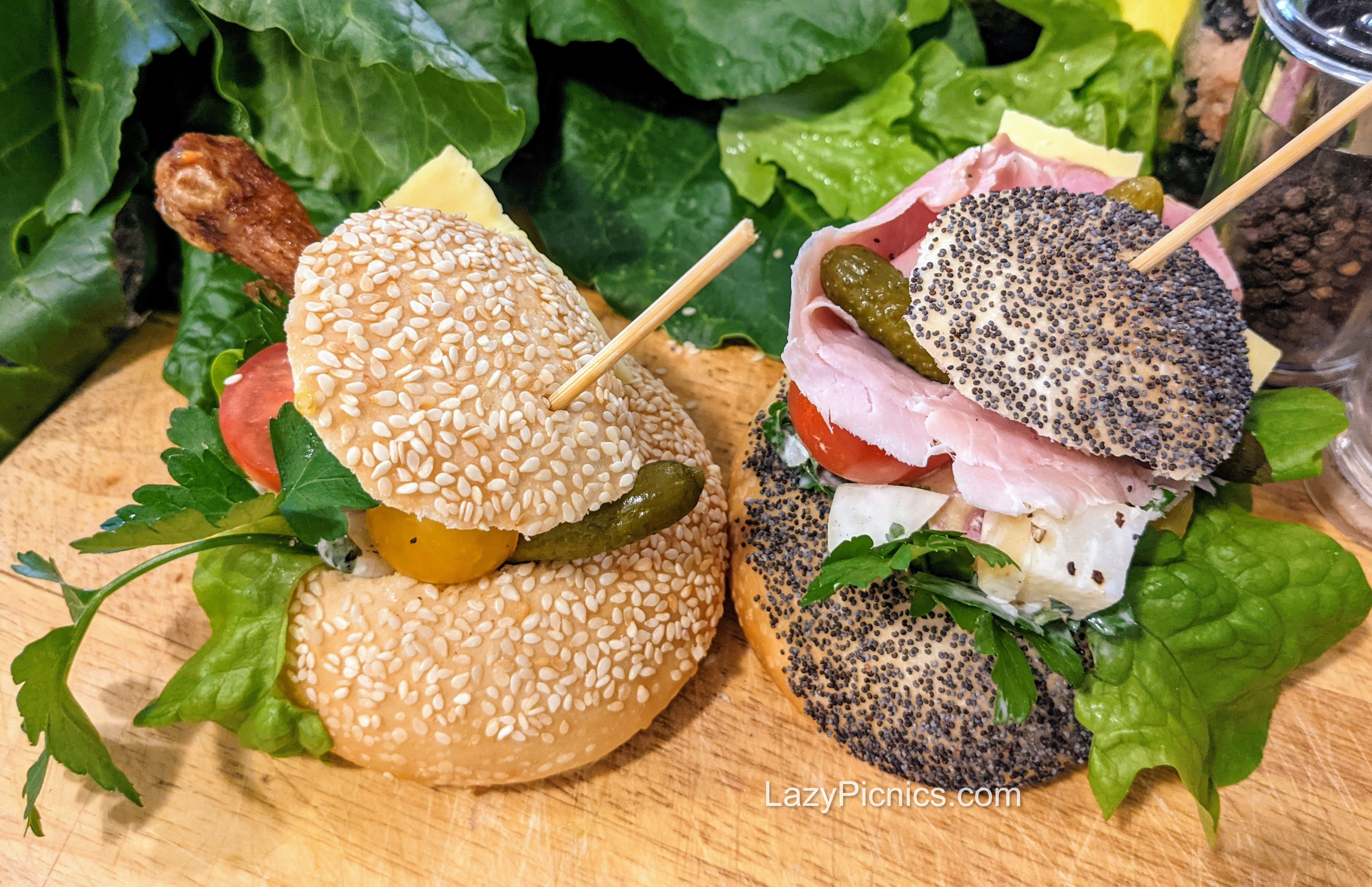 Fill the picnic sandwiches... or your picnic rolls, with
tasty, yummy fillings.
Try these rolls... filled to overflowing with really delicious food ... use this best sandwich for a picnic idea.
I'll show how to stop them spilling everywhere. Well almost... unless you over fill of course!
Then fill your picnic basket with these delicious sandwiches and rolls...
head out into the sunshine... relax on the sweet smelling grass... Munch away!

Find lists of these delicious and adaptable ingredients for you to create your best sandwich for a picnic.
Read through the lists... start thinking about what you might put together.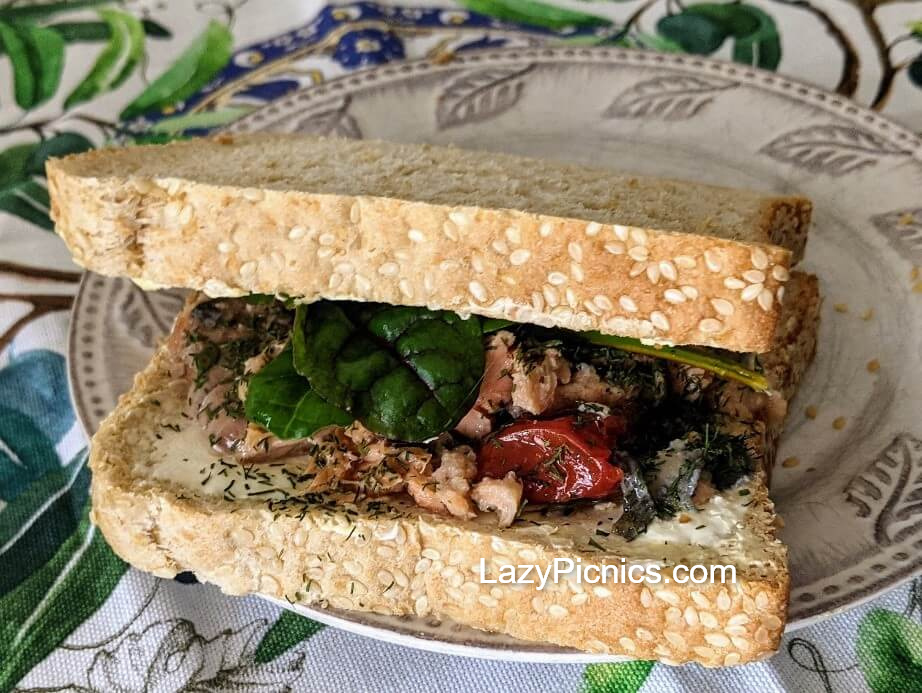 A simple, really tasty salmon sandwich




This tasty, really moreish Salmon Sandwich... is one of the easy versions for the best sandwich for a picnic.
Made with fresh sesame seed bread and filled with...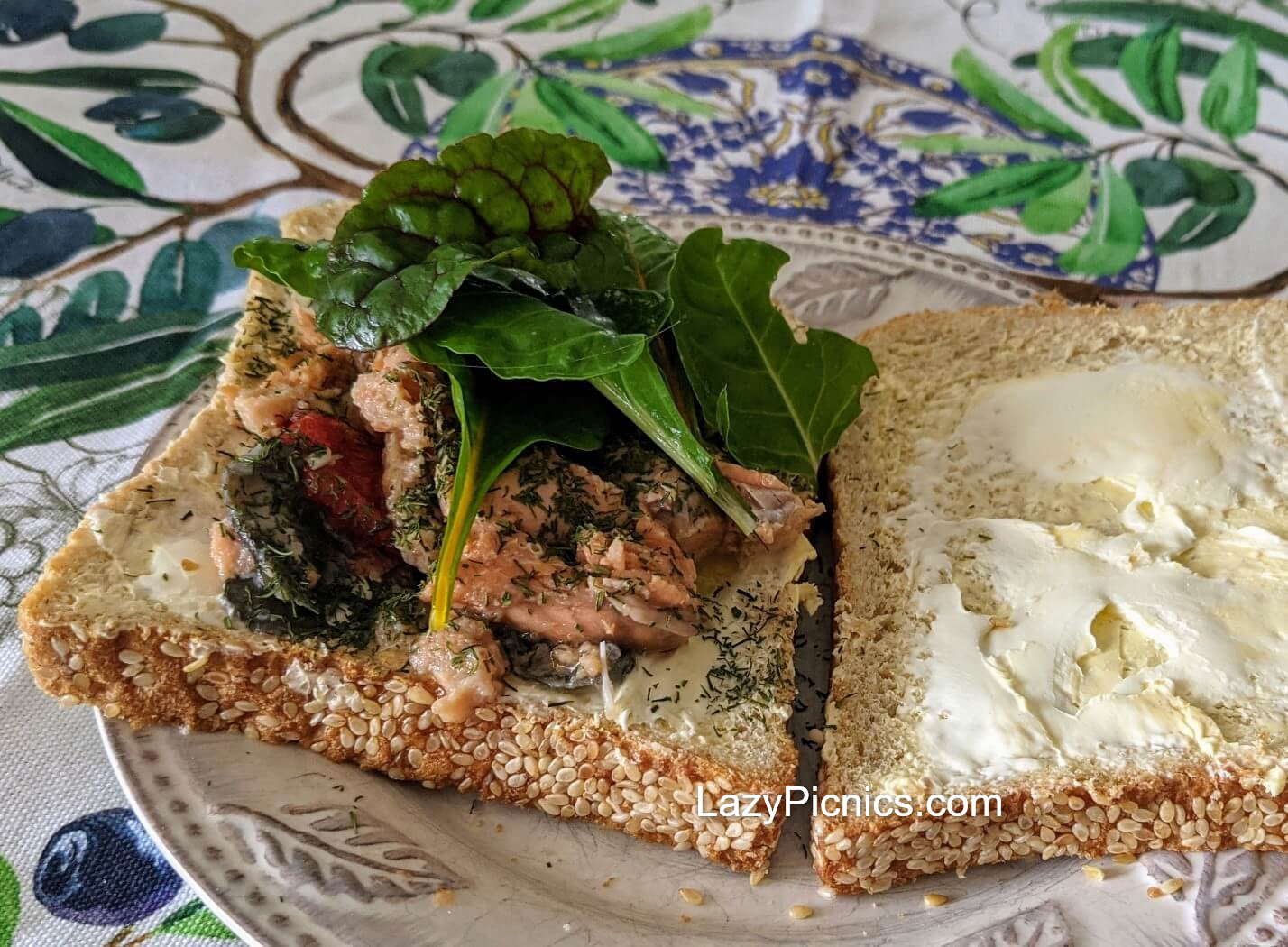 freshly cooked, then chilled salmon... can be tuna, or any fish you particularly like.




a good squeeze of lemon over fish




semi dried tomatoes




fresh dill... or dried




baby spinach tossed in a splash of salad dressing




chopped chives

bread spread with tasty cream cheese




add chunks of Feta cheese if you would like more of a cheesy flavor




and fine slices of lemon




Pile all of this up into middle of the bread.. and when the top goes on it will squash down towards the edges!



Totally delicious with a bit of a tang, in lovely fresh bread... or why not toast in a pie maker, sandwich toaster, for your picnic... it can't spill everywhere then.
We had this sandwich recently, (followed by bowls of a lovely quick dessert)  for a last minute picnic with friends.
Totally yummy sitting by the lake at Clayton Bay with seagulls and Pelicans.
We wondered if it was perhaps Mr Percival from the film "Storm Boy"... relaxing near us!
Clayton Bay is near The Coorong where they made the film.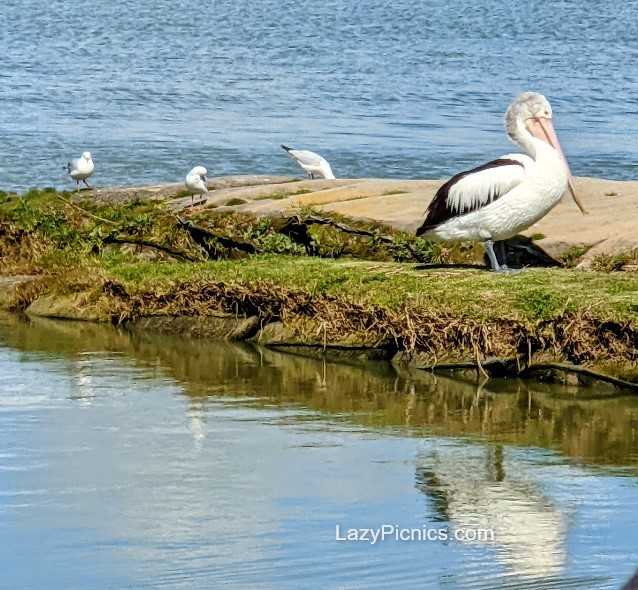 A list of some of the most popular ideas... find your best sandwich for a picnic from this list.

this will help you decide which to make... you have many choices!
Gather your choice of delicious ingredients for your picnic sandwiches!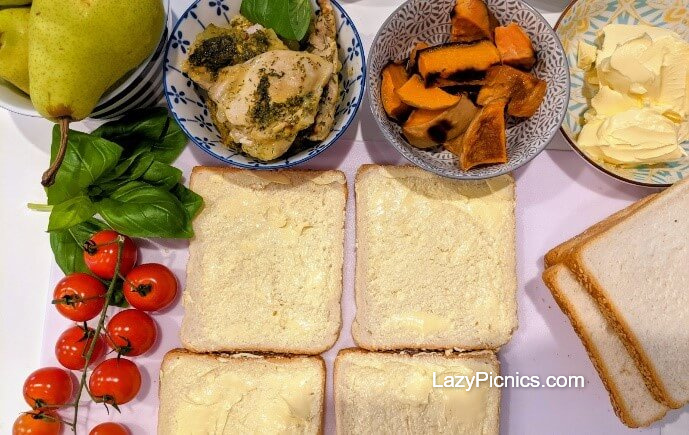 For the Kids...
Let them choose their own fillings for their sandwich... ours love this.
Then help them make them… their choices of filling from best sandwich for a picnic list.

Anything from the lists above of course

Try peanut butter and banana sandwich

Banana with anything chocolate they will love... Nutella or Milo




Vegemite and cheese... Ozzie kids love this.

Just plain sliced cheese... it's amazing how popular this is

Cheese and honey




How about a chip and sauce sandwich. Totally yuck to me, but children seem to love them!




I remember making chocolate Milo sandwiches and then jam too! Not really healthy... but it is a picnic... do we... should we?!
Toast one of these in a sandwich toaster and you'll be a real hit!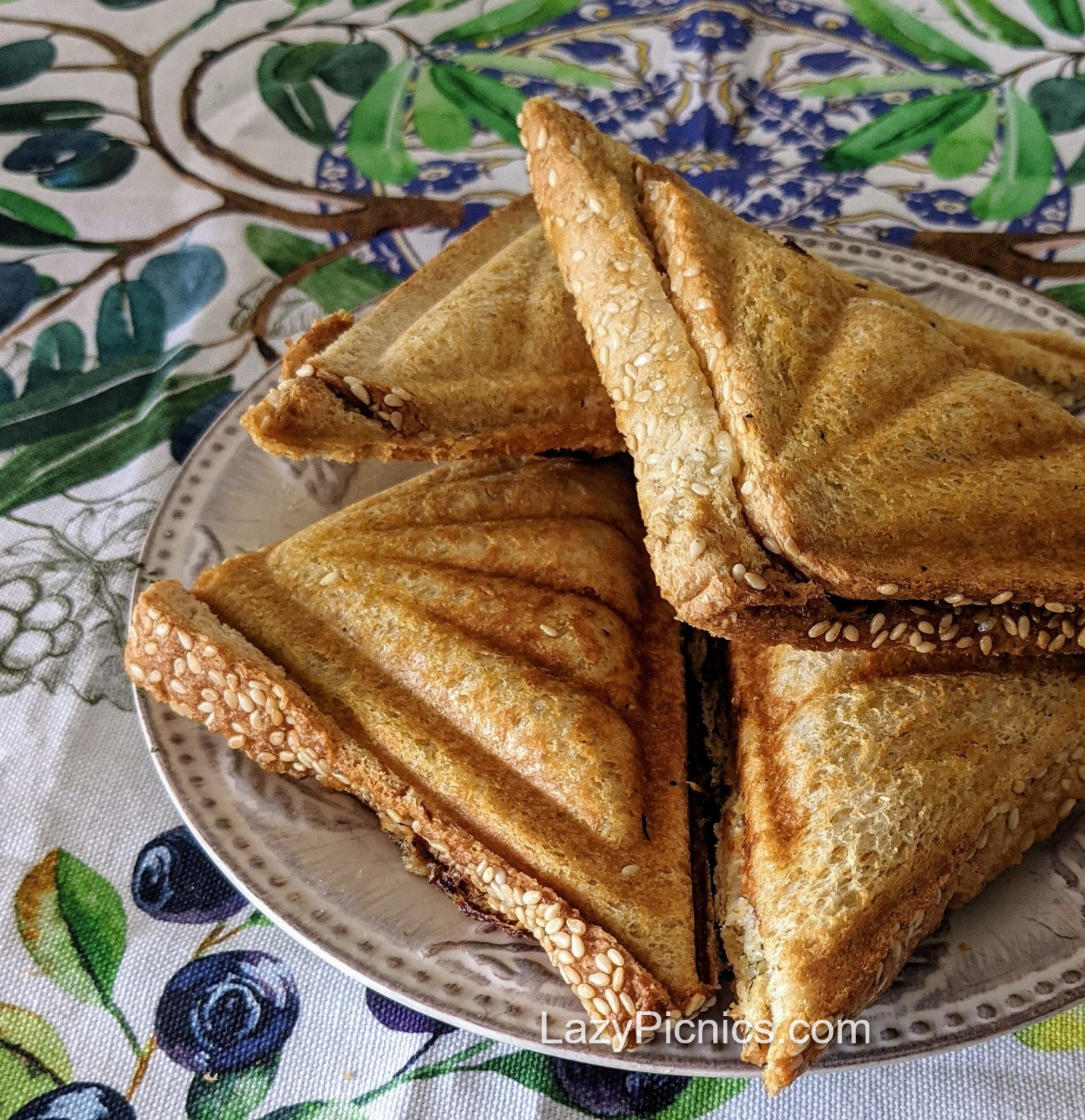 Kids love a toasted sandwich... and we do too!


Fill with their choice of filling.




It's a special crunch at a picnic!




---
Seafood suggestions to use for the best sandwich for a picnic
They are healthy sandwiches... and can be great as an open sandwich too!  There's a really gourmet seafood sandwich... still to come.
Then... think of these different types of sandwiches to make your best sandwich for a picnic
Finger sandwiches… with cucumber and watercress sandwiches

Club sandwich recipe… very dramatic and adaptable

Open sandwiches... everyone to make their own at the picnic.


Toasted sandwiches... with a sandwich toaster, to seal the food in.



Make sure the sandwiches are kept cool and dry, in a sealed container,
or bio-degradable plastic wrap, to take on your picnic.
---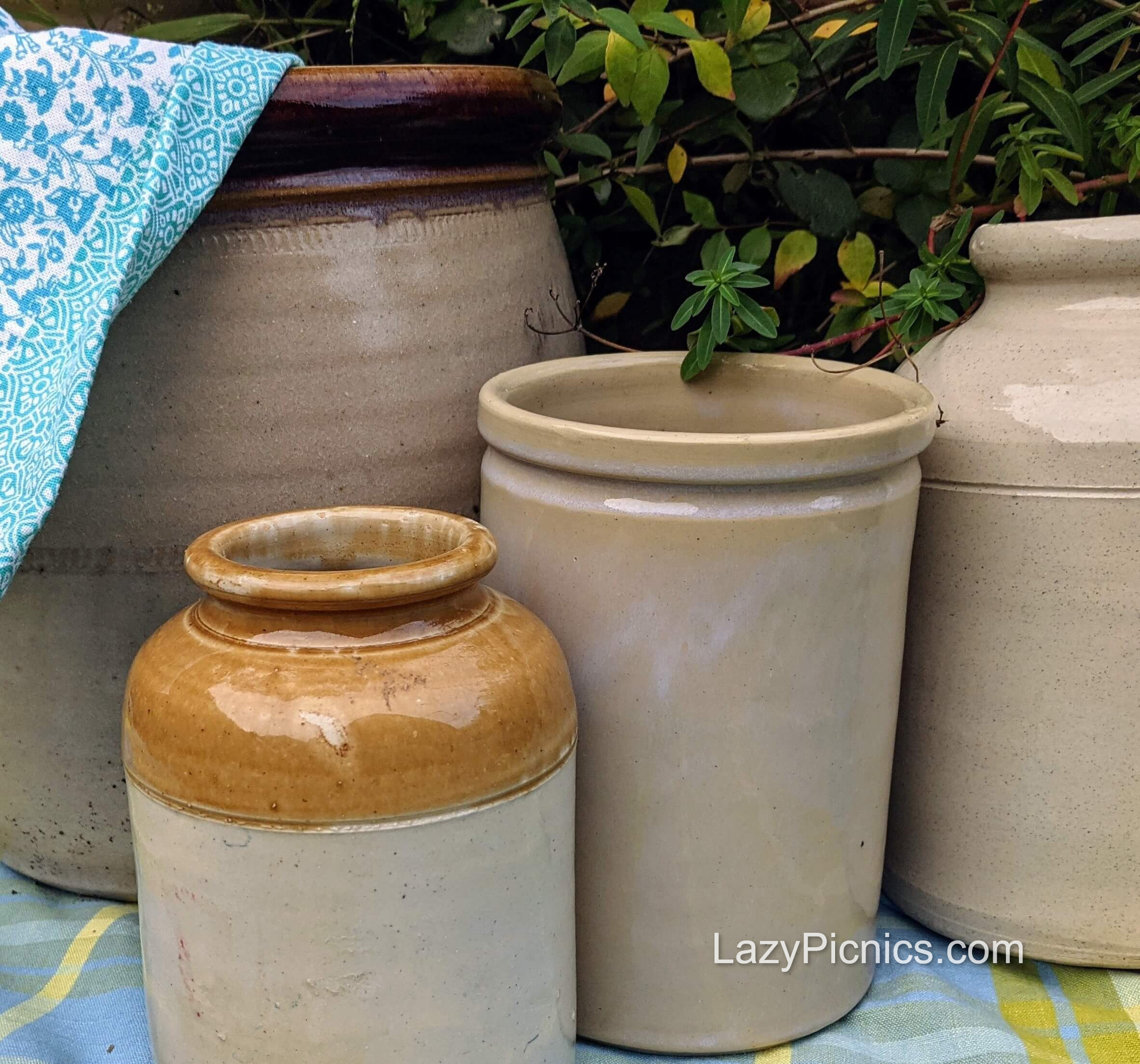 I recently found a very old recipe book, published in 1944 and I was fascinated to read …
"When it is necessary to make sandwiches several hours before they are to be used,
they may be wrapped in paraffin paper, or slightly dampened cloth,
or placed in a stone jar"
How things have changed since then…
I somehow don't fancy carting a stone jar to a picnic!
---
A few different types of sandwich breads and rolls to make the best sandwich for a picnic
Sliced fresh sandwich bread

Homemade bread... my old but simple delicious recipe to come


Sourdough

Crunchy crusty bread to slice yourself… great for an open sandwich

Toasted sandwich

Sandwich rolls… white, brown, ciabatta, panini

Pita bread for pockets

Focaccia

Corn tortilla

Your own favorite bread

French sticks and baguettes… long and short… some really long
Imagine a very long baguette overflowing with irresistibly delectable food...


and sliced at the picnic table in front of everyone! ... Perhaps a special seafood baguette.


---
Make a shorter baguette
Fill with...
Ham, tomato, boiled eggs, mushrooms, your favorite greens or salad, thinly sliced red onion...
perhaps a dressing of your choice on the side.

A shorter baguette filled to overflowing.... cut into manageable servings at the picnic.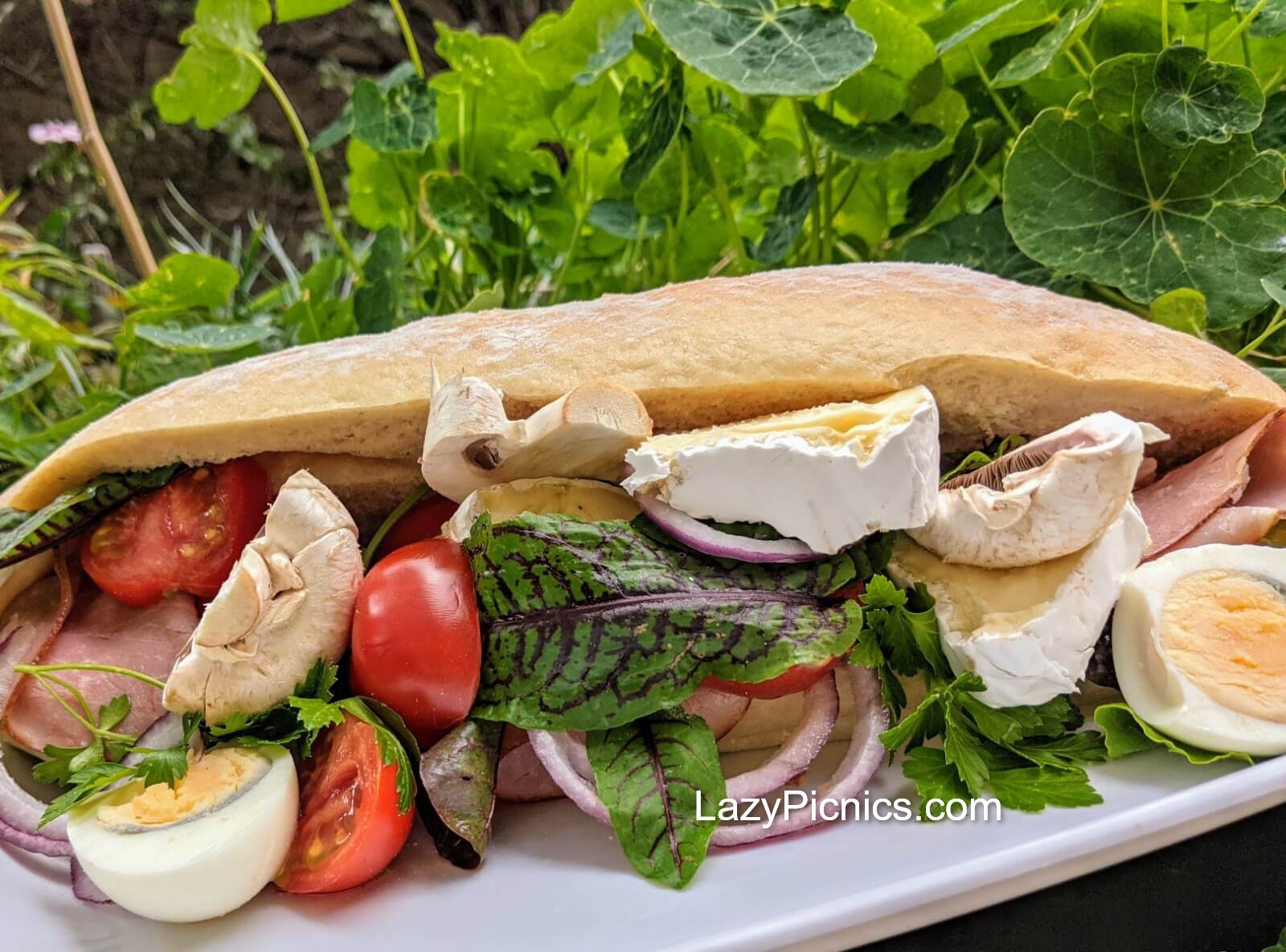 TOP TIPS... for the best sandwiches for a picnic
If you are generous with your fillings, expect yours to be eaten first!
Take more than you think you might need... they will be eaten in a flash!
So, check these most popular suggestions ... just mix them with a few simple sandwiches,
cheese and ham and tomato... or just cheese for instance
and you will soon have an overflowing sandwich plate.
---
 Let's make this... chicken salad sandwich a recipe great to take to a picnic.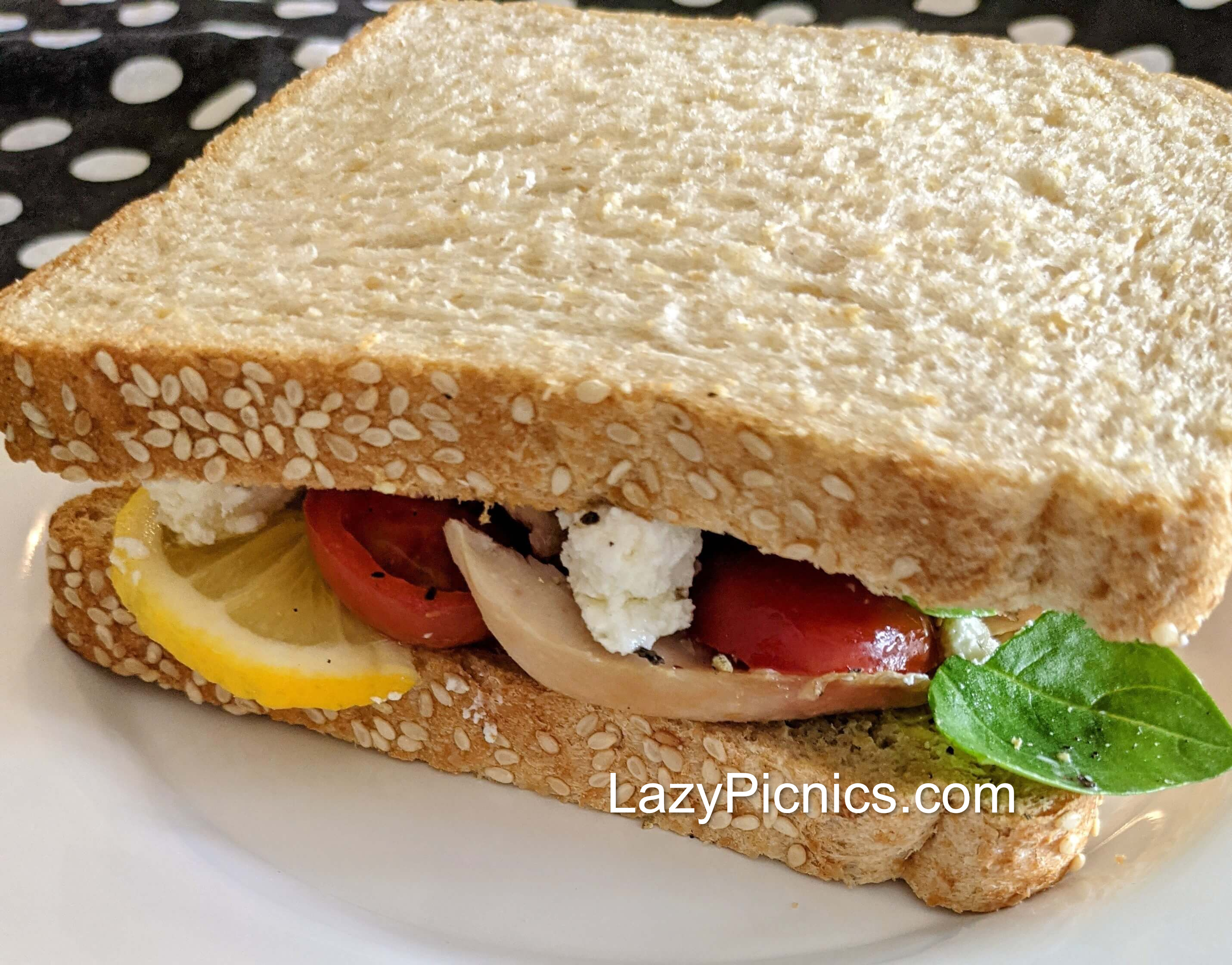 This sandwich would have to be one of the easiest and most popular… and it is really delicious and as well... another healthy sandwich.

The chicken with lemon and basil recipe from lunch ideas, is ideal for picnic sandwich recipes, but really a roast chicken, or even a chicken from the shop will be tasty too.
For these chicken sandwiches... amongst the best sandwich for a picnic
You will need…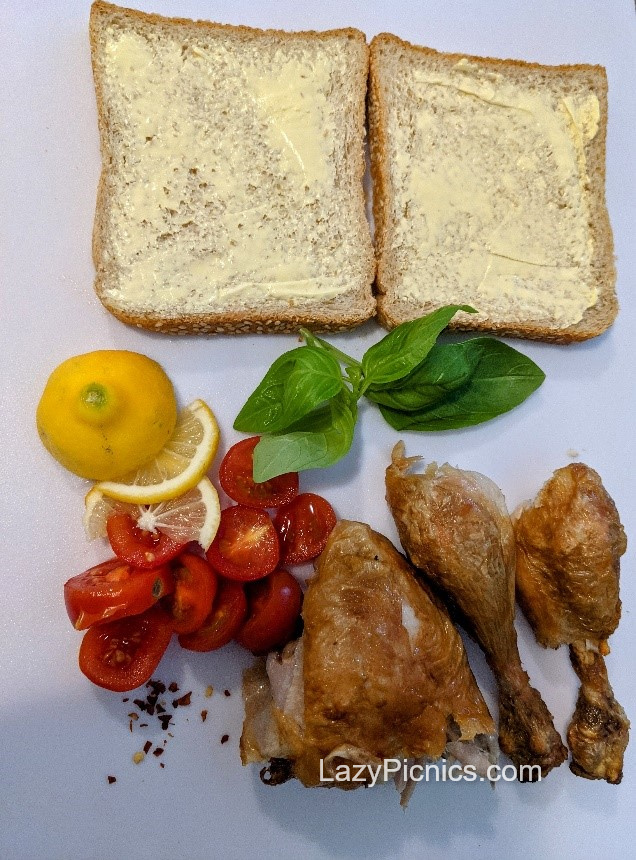 Thick slices of cooked chicken... slice or pull apart

Thick slices of tomato
Fresh basil leaves
Lemon slithers.... very thin slices
Scattering of Feta cheese
Optional... Barossa potato salad... very nice though!
---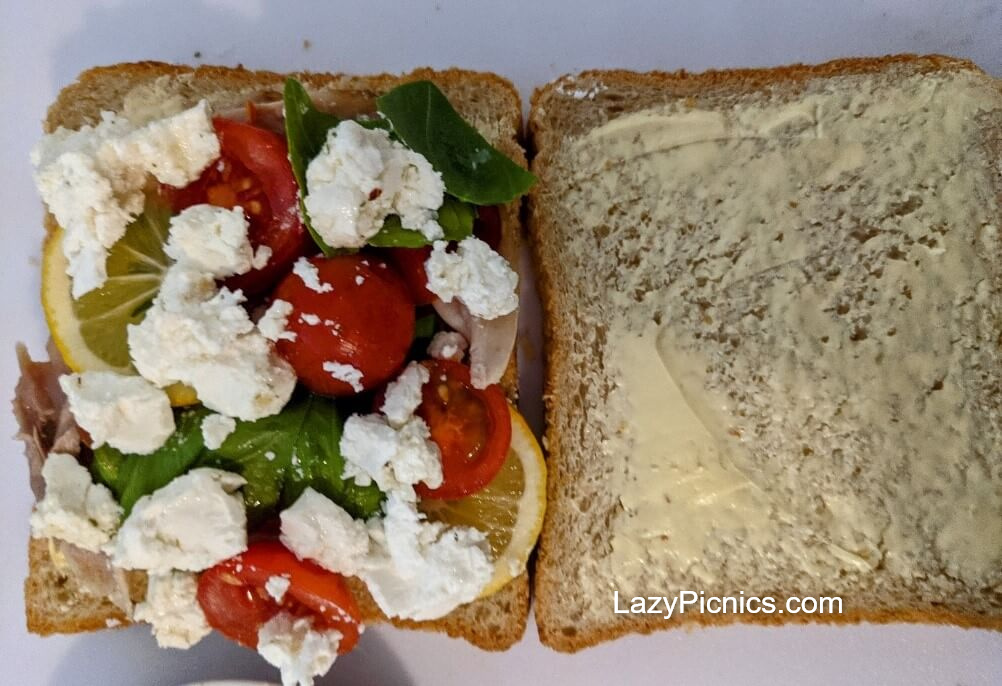 To put together…
Start by buttering both slices of lovely fresh bread... or use hummus for added flavor.
Layer chicken, lemon, basil and tomato... then potato salad... into the center of the bread, tapering off at the edges.
When you put the top bread on, the ingredients squeeze together a little and show at the edges of the sandwich, without falling everywhere... well only a bit will!
This is great in a wrap, or a pocket of pita bread, as well as any of your favorite bread or rolls.
TOP TIP... Did you notice the tips above?
If you are a neat minimalist person, don't do this... but you will always have admiring comments if you do!

Pile the sandwich ingredients up in the center of the bread, tapering off at the edges... be generous.

When you put the top slice of bread on, the ingredients squeeze together a little and show at the edges of the sandwich, without falling everywhere... well only a bit!
They will look so lush and inviting, drizzling at the edges!

We're lucky enough to have this friendly hen living next door
and she and her girlfriends love to scratch in our garden…
then they leave lovely brown eggs in pot plants and under bushes.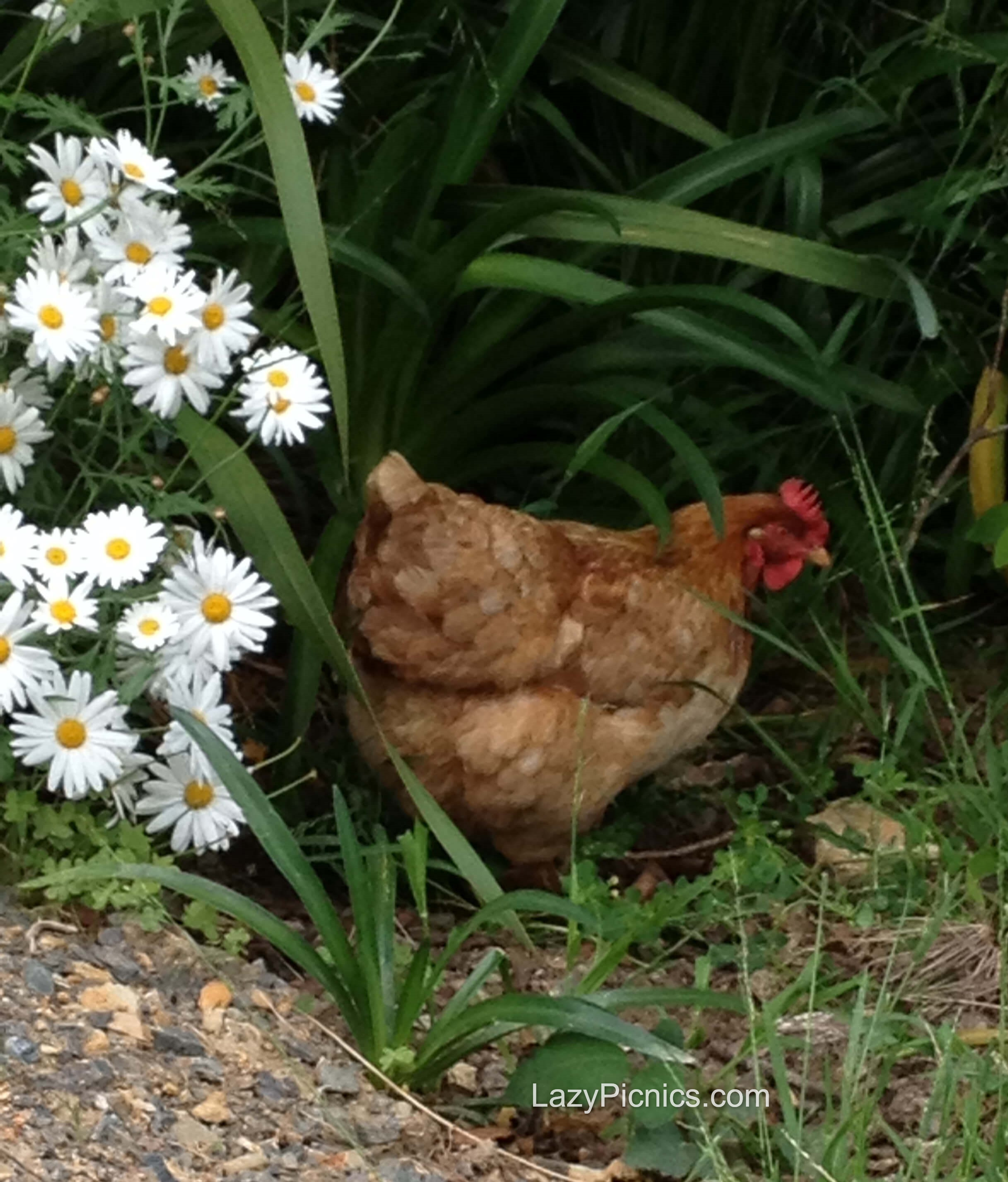 ..

. and the hens eggs are wonderful for a picnic egg salad sandwich.




Top Tips...
Are your eggs fresh?
Check that the eggs are fresh enough to eat... I love free range, but sometimes we're not sure how old the eggs are… and there is nothing more off putting than a rotten egg! It's easy to leave an egg in the fridge too long also, so it's a good idea to do this anyway.
I like to check that they are fresh by popping them into a bowl of cold water before using.
If they feel light and immediately float… toss!
Boiling eggs...
As long as they are OK, eggs which are a few days old, are easier to peel than really fresh ones.
To boil eggs… place them in a saucepan with cold water to cover and bring to boil.
Simmer for 6-7 minutes, no longer, and then plunge them into icy cold water...
leave there for a few minutes and the shell comes off easily!

I find cracking on the end then along one side, helps the shell comes off too.
Boiled eggs can be kept for 4-5 days in the fridge.
---
Boil the eggs...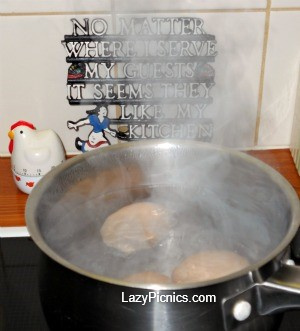 Allow at least 1, possibly 2, large eggs per sandwich.
---
Now for an Egg Salad... another suggested best sandwich for a picnic...
Curry powder is popular in egg sandwiches but I prefer this recipe. This delicious version is not one of the usual egg salad sandwich recipes.
After all, the girls eggs deserve a yummy sandwich!
Combine these ingredients

Boiled eggs
Thin slices of pancetta, or lean bacon grilled until crisp
Squeeze of lemon… just enough to flavor
Fine zest of lemon
Enough
mayonnaise
,
or Tzatziki for flavor and to moisten and hold ingredients together
Sprinkle of French Tarragon
Fresh parsley chopped
Thin slices of crunchy celery, chopped
Chives chopped
Small capers… chop if large
Pepper and salt to season
To prepare this best sandwich for a picnic...
Butter the bread

place a crunchy leaf on each slice of bread

Generously fill with the egg mixture.

Use you favorite bread or roll... wholemeal, or grainy bread goes well with egg salad sandwiches.

Cut into triangles, or squares, or even long rectangular fingers.

---
Be generous with your sandwiches...

really pile up the filling so they are lush and inviting!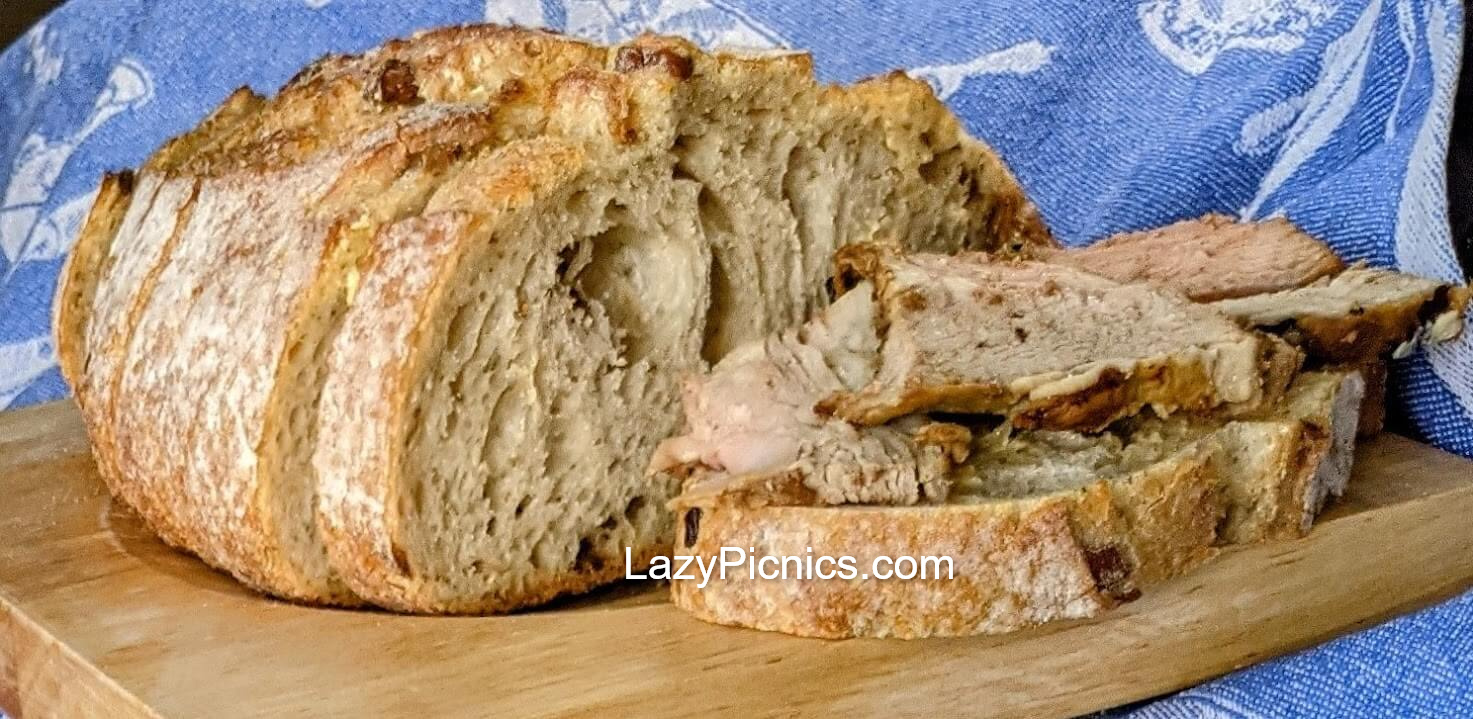 Here we have thick slices of roast beef on crunchy olive bread!
Top with your choice of fillings... enjoy as an open sandwich.
---
Ham or Roast Beef Sandwiches.
Make these best sandwiches for a picnic... they can have similar ingredients in them… and both ham and beef make a lovely open sandwich on crusty French bread or one of the Artisan breads too!
Thin slices of rare

roast beef

, or ham cut fresh from the bone, are by far the best base for these delicious sandwiches... much tastier than sliced beef or ham in a packet, but you can use those if you wish.

A simple beef or ham sandwich can be made using slices of tomato and very finely cut red onion.

Matured cheese and a spread of tasty mustard… grainy Dijon is great with these sliced meats.

A crusty olive bread, or white loaf of buttered bread… thick slices… and you have a really great meal.
---
Would you like a really delicious special treat for your picnic?
Rare Roast Beef Sandwich with caramelized onion... yum!
To caramelize onion
2 brown onions

3-4 cloves of garlic.

Sprig of fresh thyme is optional.

Approximately 60 gm (2oz) of butter, with small dash of olive oil.

Splash of Madeira or Brandy is optional.

Slice onions and garlic into rounds and cook slowly in butter and oil with and thyme.

Remove thyme and add Brandy or Madeira and flame when hot … be careful not to splash too much and singe the kitchen, or yourself!

Continue to cook slowly until onion is caramelized.
This roast beef sandwich with caramelized onion and brie style cheese is really luscious.
Place a pile of thin slices of rare roast beef onto bread of your choice then add onions and thick slices of Brie...and salad if you wish.
This is a particularly delicious, rich, sandwich which looks really inviting if generous bits of beef and onions overflow the edges of the bread... Hmmm... yumm!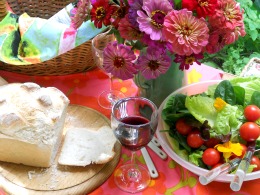 Join our free newsletter "Picnic Chatter"... Let's chat picnics!
Picnic Cake Ideas
---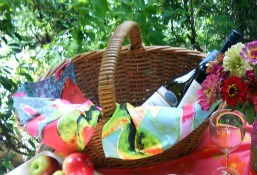 Leap Home... fill the baskets!
Please join us on Pinterest...  and Facebook